Great Lakes Fish Monitoring and Surveillance Program (GLFMSP)
Expanding the Boundaries
EPA Program Manager:
Elizabeth Murphy
Partners:
Clarkson University
SUNY Fredonia

Overview: 
GLFMSP researchers are studying how contaminants move through the Great Lakes ecosystem and biomagnify in the food web—working their way from the water, into sediment, plankton, small fish, and eventually accumulating in predatory fish such as lake trout and walleye.
Since the 1970s, scientists have been looking at legacy contaminants like PCBs and DDT in top predator fish. As industrial processes evolve, new chemicals are making their way into the Great Lakes. Researchers are screening for emerging contaminants (including PFCs, flame retardants, and others) in various stages of the food web.
By monitoring chemicals that are making their way into the ecosystem, we get a clearer picture of how the health of the Great Lakes is being impacted by human activity. This gives policymakers insight they need to limit the release of potentially harmful chemicals into the environment and safeguard human health.
Sampling:
Fish are sampled from all five lakes (using other vessels) each autumn, alternating between the even-year and odd-year sites. These samples are taken to study contaminants that have accumulated in top predator fish. The Lake Guardian takes GLFMSP researchers out one lake each year (the lake of focus) to intensively sample at two established sites— one representing an industrial area and one representing a non-industrial area. At both sites samples throughout the food web are taken to screen for newly emerging chemical contaminants.​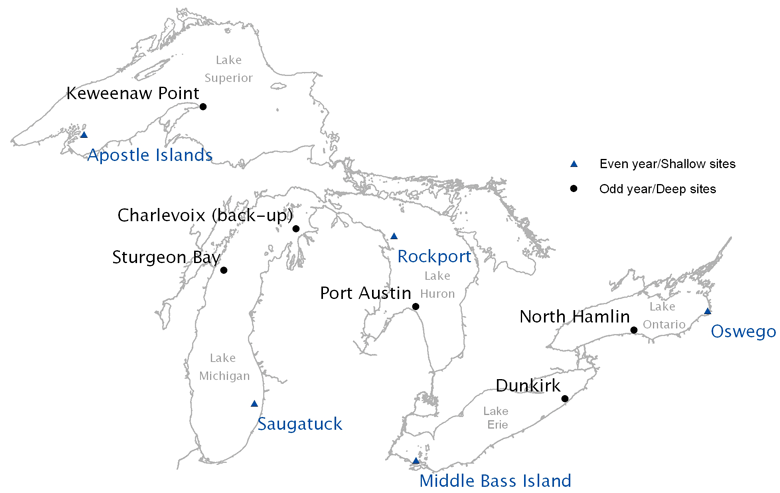 The R/V Lake Guardian sails on behalf of the USEPA Great Lakes National Program Office, gathering environmental data to gauge the health of Great Lakes.