Posted February 7th, 2017 in
News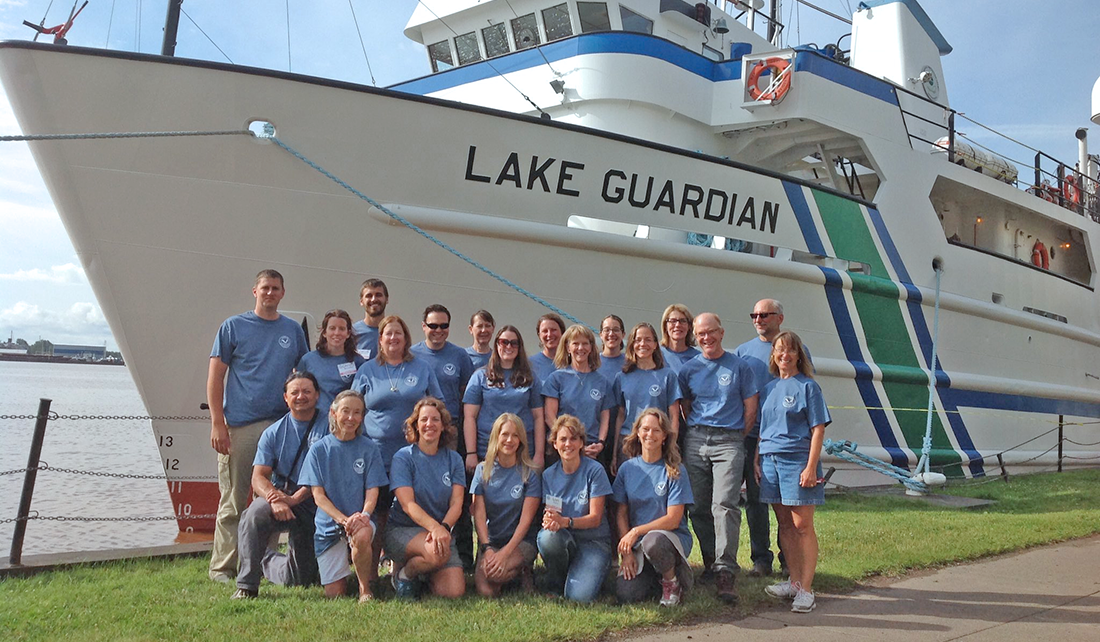 Participants from last year's Shipboard Science Workshop pose in front of the U.S. EPA R/V Lake Guardian.
Registration/Application Deadline: February 27, 2017
Event Dates: July 8-14, 2017
Event location: Lake Huron
Intended Audience: Formal and informal educators of grades 4-12 from all U.S. Great Lakes states
This July, experience a once-in-a-lifetime professional development opportunity as you travel across Lake Huron! Join the Center for Great Lakes Literacy and Great Lakes scientists on a research expedition on Lake Huron from July 8-14, 2017. Fifteen lucky educators from the Great Lakes region will spend a week onboard learning Great Lakes science, human impacts, and classroom applications.
Educators will:
live and work alongside Great Lakes scientists using state of the art techniques and equipment to monitor phytoplankton, zooplankton, benthic organisms, and water quality
explore Lake Huron's biology, geology, chemistry, and human impacts
learn about and try out Great Lakes and ocean literacy classroom activities
build new professional networks with like-minded teachers and scientists
visit the NOAA Marine Sanctuary
The cruise will start and end in Detroit with stops in Port Huron and Alpena, Michigan.
Successful applicants will be notified by March 24.
Additional details
Target audience: Formal and informal educators of grades 4-12 from all U.S. Great Lakes states
Cost? Stipend? Travel costs? Credits?: Stipend provided. Graduate credit available.
For more information: Justin Selden, seldenju@anr.msu.edu, 586-469-7139 or Kristin TePas, ktepas@illinois.edu, 312-886-6224
Application Materials
Please apply online. The print version of the blank application can help you prepare prior to submitting online.
Download Print Version of Application
Illinois-Indiana Sea Grant is a part of University of Illinois Extension and Purdue University Extension.