Posted July 16th, 2015 in
News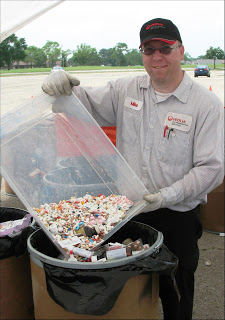 When the U.S. Drug Enforcement Administration (DEA) announced last September that they would no longer be hosting prescription drug take-back days, some communities were left wondering how they would be able to keep collecting unused medications for proper disposal.

Those communities can now breathe a big sigh of relief. DEA recently announced that they are going to reinstate collection events.

The next National Prescription Drug Take-Back Day will be held on Saturday, September 26, 2015. Police departments around the country will be working with local organizations to host these events from 10 a.m.–2 p.m. They will accept controlled, non-controlled, and over-the-counter medications. Small quantities of liquids can be dropped off, but not sharps or needles. As in the past, this take-back day is for households only—medications from businesses such as hospitals, doctor's offices or veterinarian offices are not allowed. Once the date gets closer, DEA will post the locations of the collection sites.
The goal of the program is to reduce drug diversion, but also to help limit the impacts of pharmaceuticals in the environment. Over the past five years, DEA has been successful in working towards this goal—collecting more than 4.8 millions pounds of unwanted medicine with the assistance of its community partners.

Communities that wish to participate in this upcoming 10th event will need to have their law enforcement office register with DEA. The DEA contact person is Sandra Kitchen and she can be reached at (314) 538-4861 or sandra.r.kitchen@usdoj.gov.

IISG has been helping communities set up medicine take-back programs for more than nine years. While DEA take-back days are a great resource, communities have other options. For example, they can consider law enforcement-based programs such as the P2D2 program, pharmacy-based programs such as the Yellow Jug Old Drugs program, and for-profit companies such as Sharps Compliance, Inc. which offers the MEDSAFE® program and the mail-back envelop program Takeaway Medication Recovery SystemTM.

Communities in Illinois and Indiana that are looking to start new medicine take-back programs can contact me for assistance in getting started.