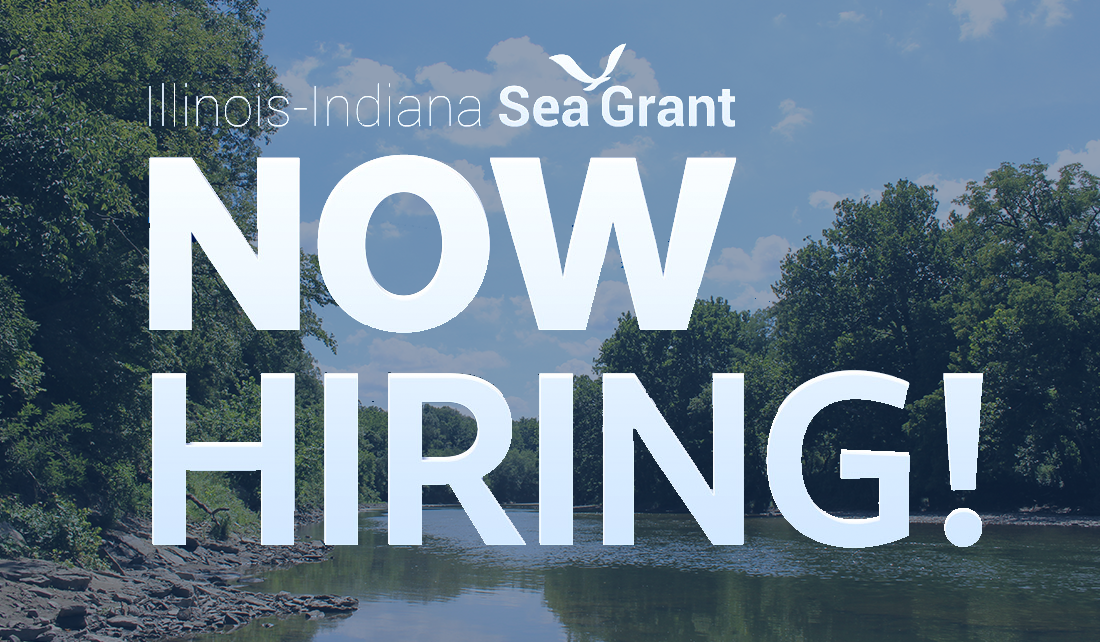 Illinois-Indiana Sea Grant (IISG) is searching for someone to take over primary responsibility for development, delivery and evaluation of educational programs related to the Illinois Nutrient Loss Reduction Strategy and stormwater/green infrastructure programs supporting the mission of the University of Illinois Extension in conjunction with Illinois-Indiana Sea Grant. This position will work closely with the IISG's water quality specialist to ensure nutrient loss reduction strategy and stormwater/green infrastructure standards are met. Bachelor's degree related to subject matter emphasis and experience with agricultural conservation programs are required. To view the complete job description and apply, visit the listing on the Illinois Extension website. Closing date is January 7, 2022.
INCLUSION AND EQUAL OPPORTUNITY
University of Illinois is an equal access/equal opportunity university. We strongly encourage women, minorities, and people from traditionally underrepresented groups to apply. For more on Illinois-Indiana Sea Grant's commitment to inclusion, please see our values statement.
Job Duties
Program Planning, Delivery and Evaluation
Facilitate communication, meeting, and outreach strategies under the guidance of Illinois NLRS partners.
Work with Illinois NLRS partners to acquire data, program information, and photos that advance NLRS reporting.
Monitor the overall project timeline and track project successes through evaluation
Evaluate and conduct data analysis and prepare data summaries and visualizations to show impacts.
Develop and deliver presentations on nutrient loss and the statewide strategy to partners and stakeholders, including agricultural, commodity, municipal, and NGOs groups.
Manage the professional, educational social media for projects.
Using evaluation and analysis, document and compose a progress report every two years.
Scholarship
Establish professional relationships and participate in campus-based partnerships that tie academic programs and research to complement Extension programming by partnering with Extension Specialists and/or faculty members on research projects as appropriate within the initiatives.
Be an active member within a professional society(s) to keep abreast of changes within your discipline. Continually seek professional development opportunities to enhance competency in subject matter areas.
Use research and evaluation findings to create innovative programs and make changes to existing programs in order to improve quality.
Share principles of evidence-based best practice with peers.
Identify funding opportunities for the Nutrient Loss Reduction Strategy, both public and private to meet project goals. Prepare and offer assistance preparing competitive grant proposals to fund the project.
Organizational Requirements
Perform other duties that contribute to the mission of University of Illinois Extension programming, as assigned.
Comply with all University of Illinois Extension Affirmative Action/Equal Opportunity policies and guidelines in all aspects of Extension work; assist unit staff with data collection for Affirmative Action, Gender, and Targeted reports as needed.
Local, regional, statewide, and (limited) interstate travel required.
APPLICATION
To apply, go to https://go.illinois.edu/157121. Log in to your account and upload a cover letter and resume as well as the names and contact information of three professional references. Resume dates must be in month/year format and employment history, at a minimum, should include all work dating back to the completion of your undergraduate degree. Positions that were less than full-time/100% must be noted as being part-time. Transcripts may be requested at a later date. To receive full consideration, all requested application materials must be submitted via the online system by the close date of January 7, 2022.
---
Illinois-Indiana Sea Grant is a part of University of Illinois Extension and Purdue Extension.