Posted August 17th, 2015 in
News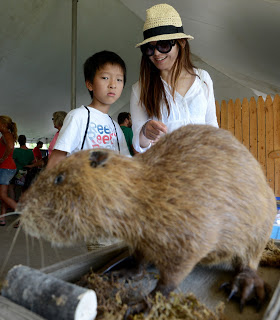 Is that a muskrat? A beaver? A squirrel on steroids?
Nope. That's Norbert the Nutria.
Norbert helped man the IISG table at this year's Illinois State Fair in Springfield and his taxidermied presence drew stares.
Nutria, also known as river rats, are considered an invasive species, and were brought by fur ranchers to the United States from their native habitat in South America.
Their aggressive burrowing and ravenous appetite near marshes and wetlands have caused extensive damage and displaced indigenous animals.
Louisiana, where they were introduced in the 1930s, had even tried to enact legislation to stem their population.
So, while some fairgoers thought his toothy face cute, his brown fur soft, his furless tail cool, most had no idea what a menace he and his family have become throughout not only parts of the United States, but Europe and Asia as well.
If you think you've spotted a nutria, you can report your sighting to the
Illinois Department of Natural Resources.
Be sure to stop by the IISG table in Conservation World at the fair. Norbert and IISG will be there through Friday.