Posted May 6th, 2015 in
News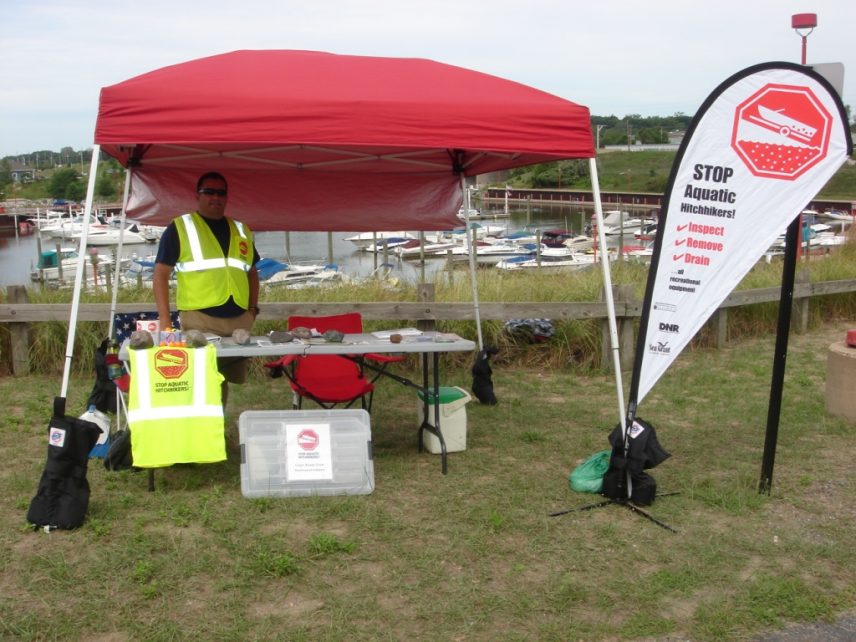 Another Clean Boats Crew season kicks off in a few weeks, and program leaders are looking for people to join the effort. Volunteers will help prevent the spread of invasive species by talking directly with boaters, anglers, and others. Long-time participant LaToyia Gilbert wrote in with her thoughts on the program and its importance. 
I am excited to be working with the Clean Boats Crew (CBC) for another year. The opportunity to talk to people, primarily boaters, about what they can do to help stop aquatic hitchhikers is great. 
I have worked with the Illinois Natural History Survey for the past two years as a CBC Site Leader. I really enjoy this position because it allows me to utilize my degrees in such a way that I feel useful. It unites my psychology degree with my graduate degree in environmental education. 
I am stationed at marinas in northwest Indiana talking to boaters and anglers regarding invasive species. The season usually concludes with a fishing tournament at a big chain sporting store. What I found encouraging at this particular event was the interest among the young people who were in attendance. Being a family-friendly event, I noticed that parents were really eager for their children to understand aquatic invasive species and the importance of prevention.
Each year, we receive extensive training, which is very helpful. It keeps us abreast of the most current information related to aquatic invasive species in this particular area. It is also a chance to become informed regarding species of interest. Of course, everyone wants to talk about Asian carp, which I have found useful in luring people towards the booth. This also allows me to provide information on species they may not know about.
As an environmental educator who grew up playing in Lake Michigan and in a family of boaters and fishermen, I realize the importance of preventing the spread of aquatic invasive species. I make sure to relate that while the species are not bad when in their native habitat, once they are established in a non-native habitat, it becomes increasingly difficult and costly to manage the population. Certain species can crowd out native species. Educating, monitoring, and prevention are ways to ensure that new infestations are evaded.