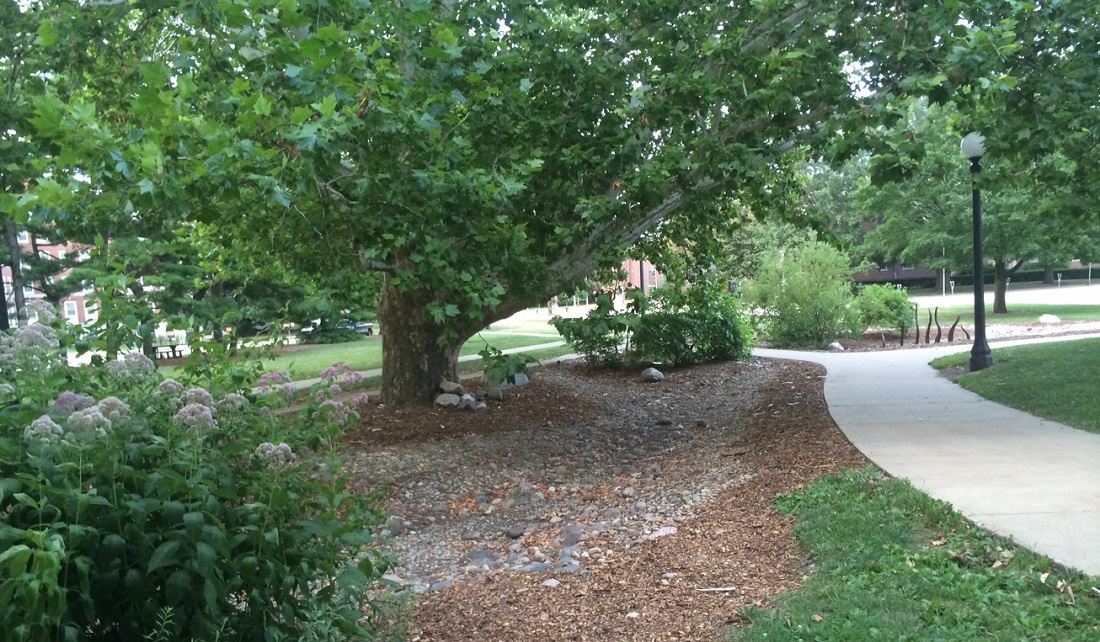 If you are a University of Illinois student, neighbor, stormwater-related professional, or just an interested party, your input on a campus rain garden is needed.
The Red Oak Rain Garden was installed 10 years ago southwest of Allen Hall as part of Natural Resources and Environmental Sciences classes. It was the first rain garden installed on the U of I campus.
"Although the garden still performs well keeping water off of the pedestrian sidewalk, approximately 90 percent of the original plantings did not survive," said Eliana Brown, stormwater specialist with IISG and the Illinois Water Resources Center. "We are working on a renovation plan that will enhance its aesthetics and multi-functionality."
As part of that, this year, Extension Master Gardeners and Master Naturalists have an agreement with campus Facilities and Services to help with care of the garden. Now, two facilitated meeting are planned to discuss the future of the garden. If you would like to contribute your thoughts or just learn more about the garden, you can join the conversation:
Meeting 1: July 11 (Tue) 3:00–4:30 PM ACES Library, Monsanto Room
Agenda: Provide background and history, ask questions, and present preliminary design direction options.
Meeting 2: July 20 (Thu) 3:00–4:30 PM ACES Library, Heritage Room
Agenda: Present refined design options based on feedback from 1st meeting and seek preferences. Illinois Water Resources intern Cameron Letterly, who is also a Masters candidate in landscape architecture will lead the sessions along with a facilitator to guide discussion.
There will be an opportunity to provide input online for those that cannot be present.
Illinois-Indiana Sea Grant is a part of University of Illinois Extension and Purdue University Extension