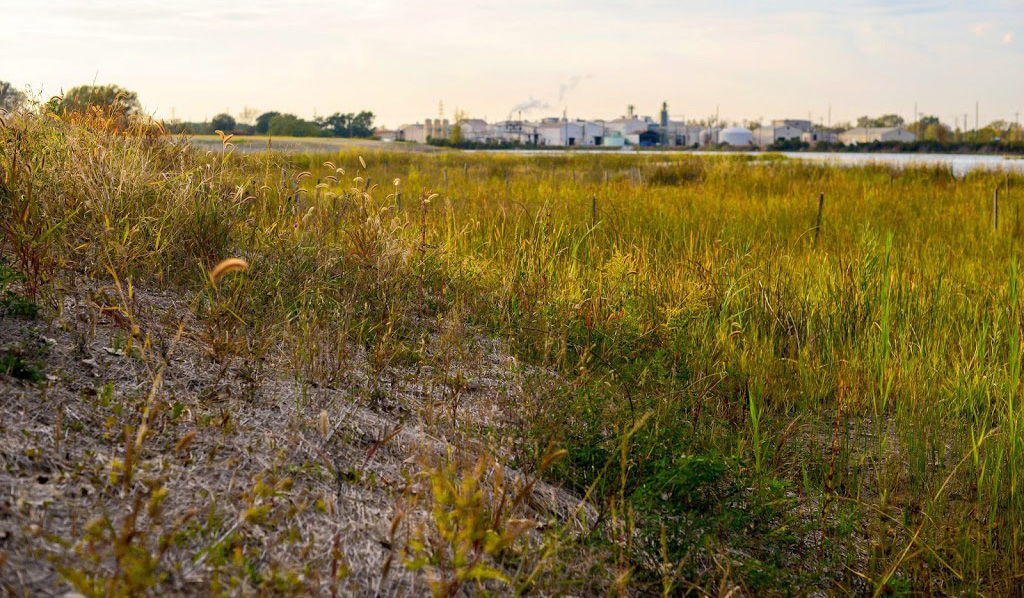 Grand Calumet River
Stuart Carlton of Illinois-Indiana Sea Grant and Zhao Ma in the Purdue University Department of Forestry and Natural Resources are seeking a postdoctoral research associate to join a project investigating the role of environmental restoration in community revitalization in Great Lakes Areas of Concern. The postdoctoral research associated will sit in Ma's Human Dimensions Lab at Purdue.
Inclusion and Equal Opportunity
Purdue University is an equal access/equal opportunity university. We strongly encourage women, minorities, and people from traditionally underrepresented groups to apply. For more on Illinois-Indiana Sea Grant's commitment to inclusion, please see our values statement on our website.
Background
The Great Lakes Areas of Concern (AOC) program was established by the Great Lakes Water Quality Agreement in 1987 to restore the most environmentally degraded places in the Great Lakes. There were originally 31 Areas of Concern in the United States, and four have been removed from the list because of environmental progress. Canada also has its own AOCs (and shares five with the US). The AOC program is a federal-state-local program funded by the Great Lakes Restoration Initiative. The program includes elements of governance, collaborative conservation, and bipartisan policy (Great Lakes Legacy Act).
The AOC program conducts management actions to restore beneficial uses to the area. Management actions primarily take the form of contaminated sediment remediation or habitat restoration projects but can also include beach management, nutrient reduction measures, and other actions. Over the last decade or so, AOC communities have started to experience not only the intended environmental outcomes, but social and economic benefits as well. These social and economic benefits were not specifically planned but are very welcome ancillary community benefits that AOC communities are starting to achieve as a result of AOC management actions.
The goal of this project is to use a mixed-methods approach to assess the role of environmental restoration in community revitalization across multiple AOCs. What is the extent of community revitalization in this context of environmental restoration? In which AOC communities has revitalization been taking place? What are the catalysts of and barriers to community revitalization in the context of environmental restoration?
Administrative details
We offer an annual salary of $47,500 plus benefits. The position is funded for up to two years with the second year contingent on satisfactory performance and the availability of funds. The preferred start date is by October 1, 2020, but this may be negotiated upon request.
The postdoctoral research associate will administratively report to Stuart Carlton, assistant director of Illinois-Indiana Sea Grant and will be advised by Zhao Ma of the Department of Forestry & Natural Resources at Purdue University. We believe that this innovative administrative structure will allow the associate to receive the best of multiple worlds: access and exposure to Sea Grant's expertise in stakeholder engagement and applied research while still being advised in a more traditional lab setting.
Specific responsibilities
(1) Organizing and conducting qualitative and quantitative data collection in AOC communities to address the role of environmental restoration in community revitalization; (2) Analyzing qualitative and quantitative data; (3) Coordinating with Illinois-Indiana Sea Grant and EPA Great Lakes National Program Office staff on project objectives; (4) Co-developing manuscripts and related research products; (5) Working with Illinois-Indiana Sea Grant communication staff to create engagement products related to the research; and (5) participating in other research, educational, and outreach activities in the Human Dimensions Lab.
Required qualifications
(1) Completed Ph.D. in environmental/natural resource social science or a related environmental field with a focus on social science; (2) Experience in designing, conducting, and analyzing qualitative and quantitative research projects.
Strongly preferred qualifications
(1) Familiarity with environmental restoration programs; (2) Experience with and interest in translating research results into meaningful outreach products for nonscientific audiences; (3) strong oral and written communication skills.
Competitive candidates will have a strong interest in and commitment to interdisciplinary and mixed-methods approaches and will be familiar with or interested in human geography, environmental psychology, natural resource decision making, political ecology, and/or other natural resource/conservation social science discipline(s)/field(s).
To apply
Please submit the following in a single PDF file to both Stuart Carlton (carltons@purdue.edu) and Zhao Ma (zhaoma@purdue.edu) via email: (1) cover letter describing your relevant experience, scholarly interests, and career goals; (2) curriculum vitae; (3) two examples of relevant publications or writing samples; and (4) contact information of three references. Please use the following subject for your email "AOC post-doc application for First Name Last Name."
Review of applications will start on August 1, 2020 and will continue until the position is filled. Women and underrepresented minorities are strongly encouraged to apply. Purdue University is an equal opportunity affirmative action employer. For more information, contact Carlton or Ma.
A bit about the location
West Lafayette-Lafayette, Indiana is a metro area of over 174,000 people centrally located between Indianapolis, Indiana and Chicago, Illinois. It is an easy place to live with a high quality of life, good schools, safe neighborhoods, and excellent public facilities and amenities, including over 40 parks and extensive trail systems. We are home to three Farmers Markets from May to October, year-long festivals and community events, and Purdue Convocation, one of the oldest year-long collegiate performing arts event that have brought excellent concerts, lectures and performances to campus since 1902.