Posted March 30th, 2015 in
News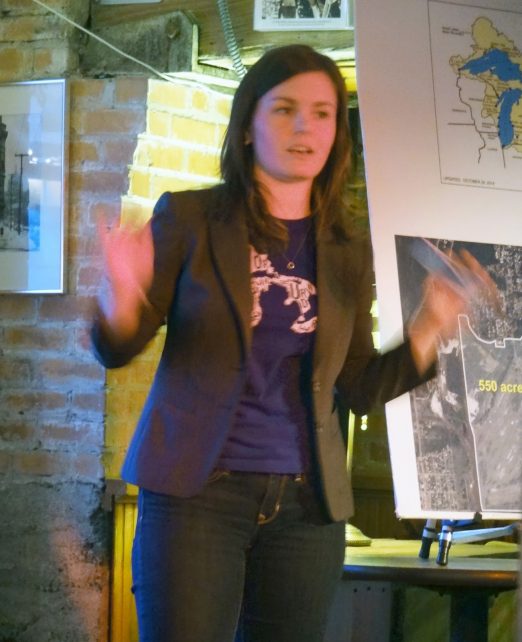 Caitie McCoy was in Duluth earlier this month to talk about efforts to cleanup portions of the St. Louis River Area of Concern. It was all part of Wisconsin Sea Grant's River Talk series.
From Wisconsin Sea Grant: 
The March River Talk held at Amazing Grace Café in Duluth covered cleanup efforts to the river bottom at the U.S. Steel Superfund Site on Spirit Lake in the St. Louis River. Caitie McCoy with Illinois-Indiana Sea Grant began the discussion with the audience of 30. McCoy heads outreach efforts for the part of the project coordinated through the U.S. Environmental Protection Agency's Great Lakes Legacy Act. She described how the St. Louis River is designated as an Area of Concern due to issues with pollution. 
Susan Johnson with the Minnesota Pollution Control Agency (MPCA) was the next speaker. She said the U.S. Steel site was deemed a Superfund Site 31 years ago. The other Superfund Site on the Minnesota side of the river is the St. Louis River/Interlake/Duluth Tar site, which was successfully cleaned up a few years ago. The U.S. Steel site contains 300 acres of polluted sediment in the river and another 550 acres of polluted land. Most of the contaminants are polycyclic aromatic hydrocarbons (natural and manmade chemicals found in dyes, plastics, pesticides, asphalt and other products), oils, led and other heavy metals. 
Johnson said the 1.7 million cubic yards of contaminated sediments in the river "makes the Interlake Tar site look small." U.S. Steel still owns most of the land and is paying for most of the cleanup. The rest is covered through voluntary federal and state programs designed for such purposes. Read more
Read Caitie's needs assessment for the St. Louis River AOC to learn about community perceptions of the river and planned cleanup efforts.