Posted July 29th, 2015 in
News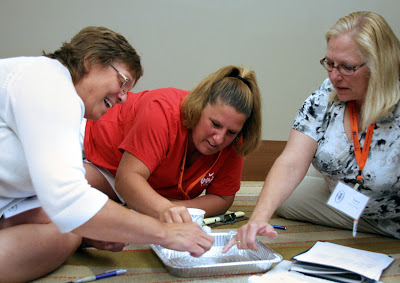 IISG Environmental Educator Kirsten Hope Walker didn't take it easy on the teachers in the audience at the 3rd Annual Beginning Teacher STEM Conference this morning at the I Hotel in Champaign, Ill. The conference is focused on helping new teachers prepare students to compete in science, technology, engineering, math, and even the art fields in the global economy.
Walker began her session with a pop quiz testing the teachers on their knowledge of the Great Lakes.
"Don't worry about being wrong," she assured them. "Nobody is expecting a geographer!"
The teachers, who were from throughout Illinois, got a crash course on issues concerning the Great Lakes, like pollution, aquatic invasive species, and water depletion.
Walker also had the teachers take part in a mock oil spill clean-up activity, one they could use in their own classrooms.
Fifth-grade teacher Carol Cofer recognized immediately how she would use the material with her students at McCleery Elementary school in Aurora, Ill.
IISG educator Kirsten Hope Walker leads the class.
"These lessons will help me to bring relevance to the student,"Cofer said. "Instead of talking about some ocean somewhere, we're talking about Lake Michigan, which is right in our backyard."
The goal of the workshop for Walker was to encourage Great Lakes literacy and understanding through education.
"Once you love something," Walker said, "you're going to take care of it and advocate for it."