Posted July 23rd, 2015 in
News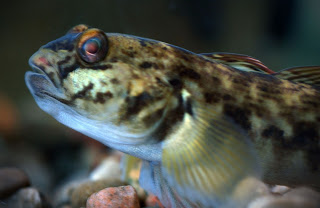 The round goby is a Great Lakes 

AIS originally from Eurasia.
Those of you in the habit of spotting and reporting aquatic invasive species (AIS) to the Aquatic Nuisance Species Hotline are going to have to try something different.
The toll-free hotline, started by the U.S. Fish and Wildlife Service in 1999, is being phased out.
It was a popular resource when it first came out, but now that states have developed their own reporting systems, the calls have just been trickling in—as few as five a month.
But even though there has been an increase in state call centers and online reporting sites, the hotline is not being shut down without an alternative national operating system.
Now you can report AIS sightings at the U.S. Geological Survey's Online Sighting Report Form at
usgs.gov/STOPANS
.
Find out more about aquatic invasive species and their impact on the Great Lakes at http://iiseagrant.org/topic_ais.php.