Posted April 30th, 2015 in
News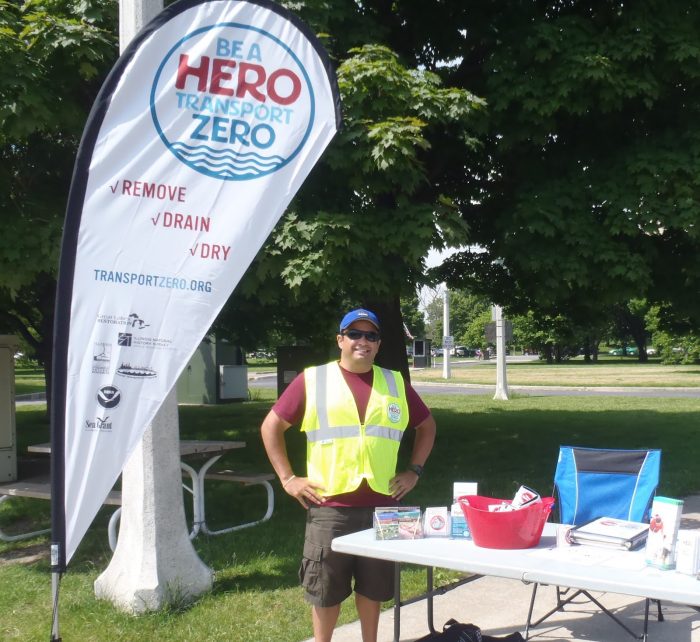 Another Clean Boats Crew (CBC) season kicks off next month, and program leaders are looking for people to join the effort. Volunteers will help prevent the spread of invasive species by talking directly with boaters, anglers, and others. Veteran crew member Greg Tselepis wrote in to tell us more about what it's like to be part of the team. 

I was a bit nervous when I first started out as a Site Leader on the CBC in the summer of 2012. I attended the training, studied the materials, and became well-versed in aquatic invasive species (AIS) and their impact on our freshwater environment. Even though I was prepared for the upcoming summer, I wasn't sure how the public would react to our presence at boat ramps around Lake Michigan.
So on our first day, I was pleasantly surprised at how receptive boaters, anglers, and beachgoers were to our message. Most people loved the fact that we were out there spreading the word about AIS—mainly because recreationists are very passionate about the Great Lakes. There are some folks who know a lot about AIS—especially anglers—and there are some who only know the basic facts from watching the news. I've found that I enjoy talking with all people who just want to know more and are willing to pass on information to their friends and family. I truly believe that outreach and word-of-mouth has been a very powerful tool in slowing the spread of AIS.
One of the reasons that I continue to be a part of this project is that I've spent most of my summers enjoying the Great Lakes, and I'll do anything to help protect them. It also helps that the folks behind AIS outreach are truly awesome people who genuinely care about the future and the sustainability of our native species.
If someone was curious about volunteering, I would tell them to expect a nice day close to the water where people are generally in great moods and looking forward to their time on the lake. Keep in mind that there are some who just don't want to be bothered, so if you are unsure, feel free to ask one of the Site Leaders if you should approach them. We generally have an accurate gauge on the people who want to keep to themselves, and, of course, we respect them. It's also pretty cool when they see us the following weekend and feel comfortable to stop by our table and grab a sticker and some info.
Looking forward to another great summer on the Clean Boats Crew!