Skip to content
Education & Training
Education is essential to help people make well-informed decisions about the environment, including fish populations, whether we catch or buy our seafood. Illinois-Indiana Sea Grant works with anglers, businesses, scientists, and managers to promote communication on fisheries issues in Lake Michigan. We strive to organize events that promote collaboration among these stakeholders, and develop products that provide information on a range of fisheries issues.
Fisheries Workshops
We host a number of fisheries workshops in the spring and fall, outside of popular fishing times and at venues convenient for anglers in Illinois and Indiana. At these workshops, scientists share interesting research and timely updates on fish populations, food webs, and environmental components of Lake Michigan. Workshops are designed to keep anglers informed of current and emerging issues, while encouraging collaboration among participants to address these issues or identify new research opportunities. Partners for these workshops have included:
Indiana Department of Natural Resources
Illinois Natural History Survey
United States Geological Survey
U.S. Fish and Wildlife Service
NOAA Great Lakes Environmental Research Laboratory
Indiana Lake Michigan Coastal Program
Ball State University
Purdue University
University of Illinois
Hammond Marina
North Point Marina
Chicago Maritime Museum
City of Michigan City
Chicago Sun Times
IISG also hosts booths at boat, fishing, and outdoor shows around southern Lake Michigan, so stop by to say hi! For a list of upcoming fisheries workshops and events, email Mitchell Zischke.
Fisheries Publications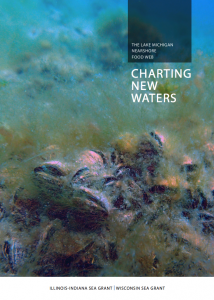 Illinois-Indiana Sea Grant aims to take key information from scientific research and disseminate it to a wider audience. First, we review fisheries research from peer-reviewed journal articles, conference symposia, government reports and ongoing research projects. We then team up with writers and graphic designers to produce new publications, news stories and other material that is engaging and informative. Fisheries publications are available online and in print at our many outreach events. View Publications & Products.