Skip to content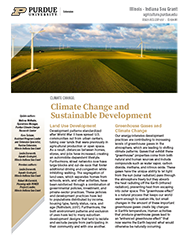 File Type:
pdf
File Size: 325.59 KB
Media Type:
Fact Sheet | Brochure | Poster | Extension Report | Research Summary
Publication Number:
IISG21-RCE-ERP-037
Pages:
6
Description:
Energy-intensive development practices contribute to increasing levels of greenhouse gases in the atmosphere, which are leading to shifting climate patterns.
This document is available through the Purdue University Extension Education Store at: https://mdc.itap.purdue.edu/item.asp?Item_Number=ID-524-W
Recommended Citation
Widhalm, Melissa, Salazar, Kara, and Dorworth, Leslie. Climate Change and Sustainable Development. 2021. Illinois-Indiana Sea Grant Report IISG21-RCE-ERP-037.
Download File
Creators
Kara Salazar, Leslie Dorworth
Year
2021
Focus Areas
Resilient Communities and Economies
Topics
Climate Ready Communities, Sustainable Community Planning