Skip to content
How Buoys Help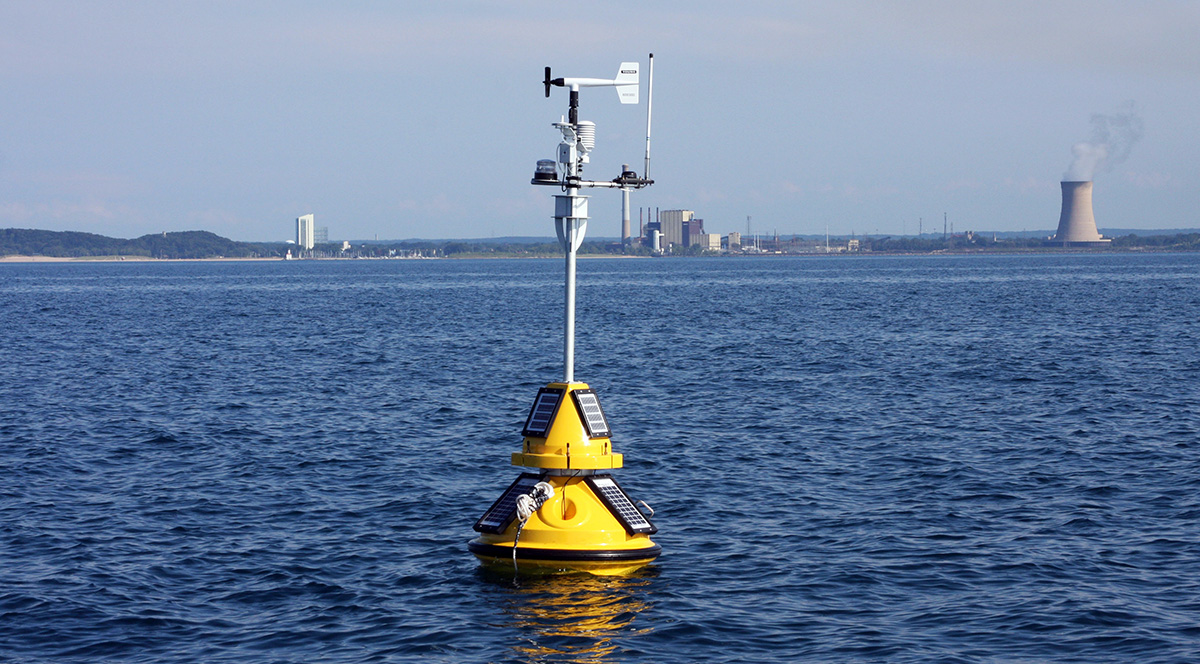 Scientific devices collect information from lakes and rivers in different ways. The simplest is to have a person present and running the device (for example, in the LimnoLoan program). A less person-intensive method is to deploy an autonomous (or independent) device. Sometimes these stay in the same place, collecting information until they are retrieved. Sometimes they travel as they collect data. But in either case, the data needs to be downloaded once the device is recaptured. If the device is lost, that data is never recovered.
Real-time monitoring devices continuously collect data, as autonomous devices do. What makes them special is that they also transmit data as it is collected. Every 10 to 60 minutes, data is sent via cellular transmission to locations where they can be captured by websites and apps.
Illinois-Indiana Sea Grant owns and maintains two real-time monitoring buoys that are deployed annually in nearshore Lake Michigan in the waters of Michigan City, Indiana and Wilmette, Illinois. IISG also displays the most recent data for two other real-time buoys in the Illinois waters of Lake Michigan near Winthrop Harbor and Waukegan, both operated by the Illinois State Geological Survey.
More than 20 other real-time buoys are deployed in Lake Michigan each year, supported by a variety of entities, including the Chicago Park District, NOAA Great Lakes Environmental Research Laboratory, and LimnoTech, Inc., as well as local cities, power plants, travel boards, and many others. You can see data from all Great Lakes buoys via the Great Lakes Observing System.
---
How is real-time data used?
The real-time buoys serve many audiences. The National Weather Service uses buoy data to forecast wave and weather conditions, observe current conditions, and change forecasts when observations are not as expected. Boaters, anglers, paddlers, and surfers use the data to assess conditions before traveling out for the day. Charter captains use the data to make decisions about the safety of their customers and crew, as well as which locations will be good for fishing. Scientists use real-time buoy data to improve Lake Michigan predictions for the near- or long-term future.
---
Learn more about how buoys help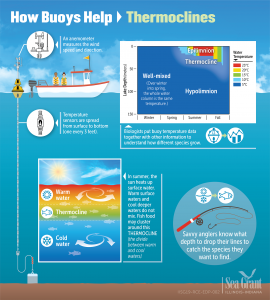 Thermoclines
Some buoys measure water temperature from the surface to the lake bottom. How is that information used?
More about buoys and thermoclines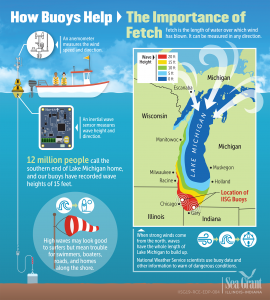 Fetch
What is fetch? Why does it matter to southern Lake Michigan?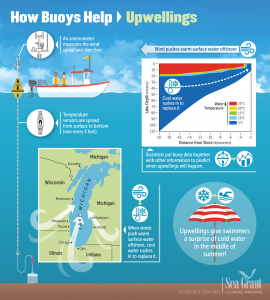 Upwellings
Why is the lake water cold in the middle of summer?
More about buoys and upwellings

Coastal Erosion
What happens when sand and sediment move around the lake?
Contact Info
Buoy Specialist
Ben Szczygiel
Research Coordinator
Carolyn Foley
765-494-3601
Campus Engagement Coordinator
Angela Archer
765-496-3722