Skip to content
Curriculum & Activities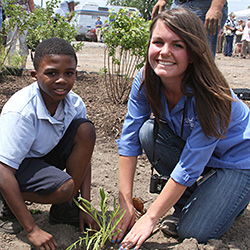 To prepare students to be responsible decision-makers and future leaders, IISG has developed education programs that engage students in experiential practices to promote a sustainable society. Our community stewardship education projects are focused on safe disposal of unwanted medicine, controlling the spread of aquatic invasive species, and environmental stewardship for contaminated lands.


---
The Incredible Shrinking Cup
Teach students about the impact of pressure on volume (i.e., Boyle's Law) through shrinking styrofoam cups in the depths of the Great Lakes. You'll send us decorated cups, then we'll sink them in one of the Great Lakes and send them back to you. Students will see firsthand the effects of increased water depth on pressure and volume—their cups will be a fraction of the original size!
---
Helping Hands: Restoring Great Lakes Habitat
This curriculum engages upper elementary and high school students in Great Lakes environmental stewardship. It is designed for schools located in Areas of Concern that are undergoing cleanup and restoration, but the curriculum can apply to any Great Lakes community.
---
The Medicine Chest
We have created and compiled a series of lessons on the issues surrounding pharmaceuticals and personal care products (PPCP) that end up in our waterways. These lessons give a thorough understanding of PPCP disposal issues, and stewardship activity ideas are available to inspire action.
---
Nab the Aquatic Invader!
This innovative web-based activity resource introduces students (grades 4-10) to marine and freshwater invasive species and their impacts. Available activities use a detective theme and cartoon characters to engage students in learning more about how to identify aquatic invasive species and understand prevention practices.
---
Education Products and Publications
View educational products and publications from throughout Illinois-Indiana Sea Grant's history.
Contact Info
Educator and Student Engagement Coordinator
Terri Hallesy
217-244-8809
Environmental Literacy and Workforce Development Coordinator and Great Lakes Outreach Specialist
Kristin TePas
312-886-6224