Skip to content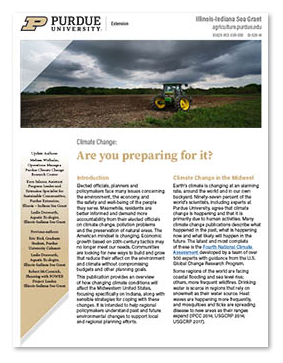 Media Type:
Fact Sheet | Brochure | Poster | Extension Report | Research Summary
Publication Number:
IISG20-RCE-EXR-039
Pages:
10
Description:
This publication provides an overview of how changing climate conditions will affect the Midwestern United States, with a specific focus on Indiana, along with sensible strategies for coping with these changes. It is intended to help regional policymakers understand past and future environmental changes to support local and regional planning efforts.
This document is available through the Purdue University Extension Education Store at https://mdc.itap.purdue.edu/item.asp?Item_Number=ID-520-W.
Recommended Citation
Widhalm, Melissa, Salazar, Kara, and Dorworth, Leslie. Climate Change: Are you preparing for it? 2020. Illinois-Indiana Sea Grant Report IISG20-RCE-EXR-039.
Creators
Kara Salazar, Leslie Dorworth
Year
2020
Focus Areas
Resilient Communities and Economies
Topics
Climate Ready Communities, Sustainable Community Planning