Skip to content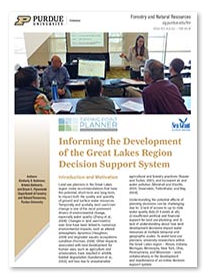 Media Type:
Fact Sheet | Brochure | Poster | Extension Report | Research Summary
Publication Number:
IISG20-RCE-RLA-022
Pages:
5
Description:
Land use planners in the Great Lakes region make recommendations that can affect the quality and quantity of ground and surface water resources. Challenges include a lack of up-to-date data, and insufficient political and financial support. In this publication, university researchers in the Great Lakes region show how collaboration led to development and maintenance of an online decision support system.
Document is available from the Purdue Extension Education Store at, https://mdc.itap.purdue.edu/item.asp?Item_Number=FNR-601-W.
Year
2020
Focus Areas
Healthy Coastal Ecosystems
Topics
Climate Ready Communities, Healthy Waters