Skip to content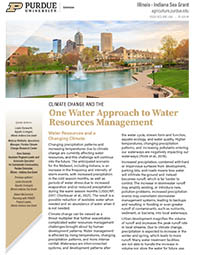 Media Type:
Fact Sheet | Brochure | Poster | Extension Report | Research Summary
Publication Number:
IISG21-RCE-BRC-050
Pages:
4
Description:
Climate change is spotlighting the importance of managing water resources. Building on previous work (ID-524-W, ID-520-W, ID-519-W), in this publication the authors discuss how the One Water approach can benefit urban communities.
This file can be downloaded from the Purdue Extension Ed Store at: https://mdc.itap.purdue.edu/item.asp?Item_Number=ID-525-W
Recommended Citation
Salazar, K., Widhalm, M., and Dorworth, L. "One Water Approach to Water Resources Management." 2021. Illinois-Indiana Sea Grant Report IISG21-RCE-BRC-050.
Creators
Kara Salazar, Leslie Dorworth
Year
2021
Focus Areas
Resilient Communities and Economies
Topics
Climate Ready Communities, Stormwater & Green Infrastructure, Sustainable Community Planning