Skip to content
Great Lakes Legacy Act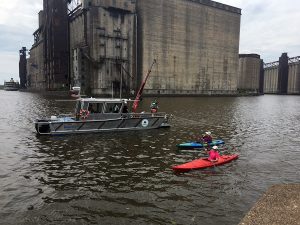 As the Great Lakes developed over the last couple centuries, rivers, harbors, and lakes were treated as a dumping ground by industries, municipalities, and society at large. Today, environmental regulation severely restricts or prohibits such discharges, but the legacy of our past lingers.
The sediment at the bottom of many Great Lakes tributaries stores historic contaminants that take a long time to break down. Toxins like heavy metals, PCBs, PAHs, and dioxins persist, harming benthic macroinvertebrates. These are small, aquatic animals living at the bottom of our waterways, and they are the foundation of the food web. Sediment remediation through the Great Lakes Legacy Act removes and isolates this pollution from the ecosystem, creating a healthier environment.
Habitat restoration gives the ecosystem an additional boost, allowing fish and wildlife populations to flourish once again. Remediation and restoration benefits people, too. Fishing and swimming become safer, the shoreline gets a makeover, and quality of life improves. With the rust belt stigma fading, businesses return to the waterfront to enjoy the new, blue economy.
Education
Through discussion-stimulating lessons and hands-on activities, our Helping Hands: Restoring Great Lakes Habitat curriculum provides an opportunity to engage upper elementary and high school students in Great Lakes environmental stewardship. By connecting with local aquatic habitats, students will improve their scientific and Great Lakes literacy, learn ecological concepts, and better understand environmental cleanups happening near their school. Learn more on the Helping Hands education page.
---
For more information, visit greatlakesmud.org
Videos
The following videos can be found on the IISG YouTube channel:
A Seat at the Table: The Great Lakes Legacy Act
Revitalizing Local Waterfront Communities: The Great Lakes Legacy Act
Sediment Remediation at River Raisin in Monroe, Michigan
Zephyr Summer 2017 Pre-Cleanup Drone Flight (No sound)
Drone Flyover of Zephyr Refinery Cleanup 5/10/18
Lincoln Park Milwaukee Virtual Tour
---