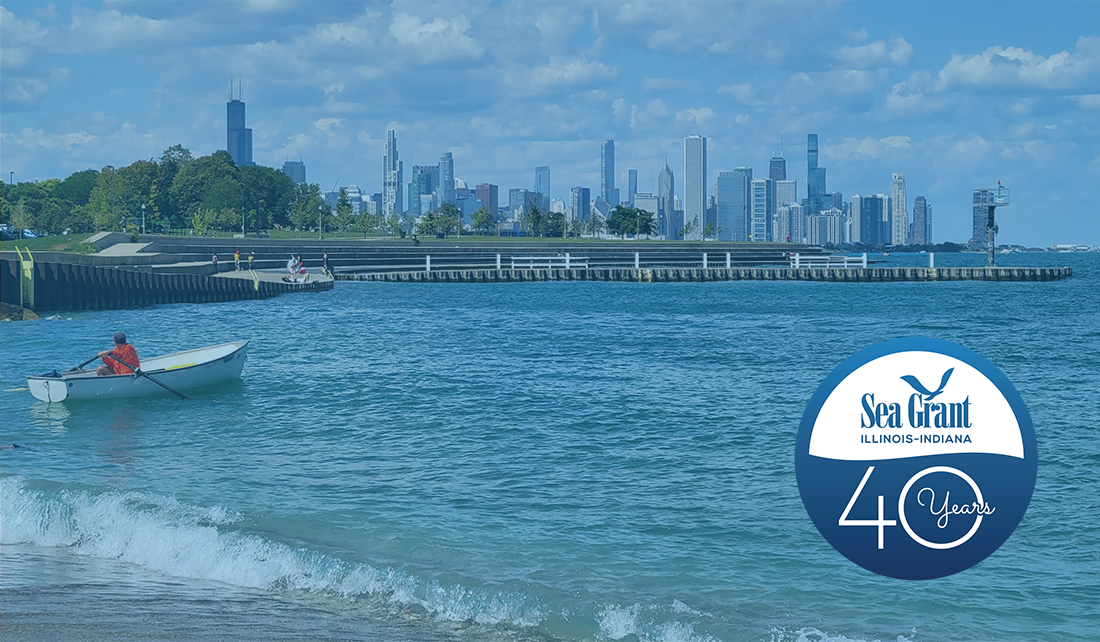 This year, Illinois-Indiana Sea Grant (IISG) is celebrating 40 years of service to southern Lake Michigan communities. Started in 1982 by Robert Espeseth and Jim Peterson as a collaboration between the National Oceanic and Atmospheric Administration (NOAA), University of Illinois Extension and Purdue University Forestry & Natural Resources, the program has flourished as funding and partnerships have grown over the years.
Director Tomas Höök joined IISG in 2010 as associate director of research and in 2018, when his predecessor, Brian Miller, retired, Höök was asked to step up as director. During this transition, IISG also switched its administrative base from University of Illinois to Purdue University.
IISG has seen substantial growth throughout the past 40 years—especially the breadth of issues the program addresses, the technology employed and, most significantly, increased funding. Höök credits much of the program's growth to Miller, who sought out partnerships with outside agencies.
Due to the boost in funding, IISG has been able to grow its staff, fund more research and expand extension and community programs. One area of focus that has grown considerably is community and environmental resiliency. Due to climate change, the Great Lakes have experienced more dramatic fluctuations in water levels. High water levels result in erosion, flooding and washed-out roads while low levels create mud flats, disrupt transport and potentially harm wildlife.
"We've been doing more work to educate people about changing lake levels and impacts of climate change while also trying to educate decision makers, like city planners or state park managers, on how to address it. So, we develop resources that are accessible to managers and that can also be used by more people," Höök explained.
Improving accessibility to underserved communities is another area in which IISG has been intentional about expanding. Traditionally, IISG has focused much of their community outreach on recreational boaters and fishers, who tend to be more affluent than most of the populations around Lake Michigan.
"We're trying to do more outreach, K-12 education programs, and research that serve the diversity of the citizens and communities in southern Lake Michigan, including programs to get kids interested and excited about the lake."
The program has also seen significant growth to the IISG Scholars Program, which provides one-year grants to support graduate student and faculty research. According to Höök, in addition to funding research, the scholars program aims to educate participants about Lake Michigan issues while training them on how to conduct applied research.
Höök also takes pride in the culture and work environment at IISG and credits the program personnel for continued success. As director, he takes more of a "behind the scenes" approach, which fosters autonomy and opens the door to new possibilities.
"People seem to enjoy working at Sea Grant and tend to feel like the work that they do has meaning. They're winning awards and bringing in grant money, and I often receive emails and feedback from partners telling me how much they appreciate the work the people in our program are doing."
Going forward, IISG plans to continue expanding its research and community outreach. After 40 years of serving Great Lakes communities, the future of Illinois-Indiana Sea Grant only looks bright.
---
Illinois-Indiana Sea Grant is a part of University of Illinois Extension and Purdue Extension.
Writer: Motinola Agunbiade
Contact: Irene Miles