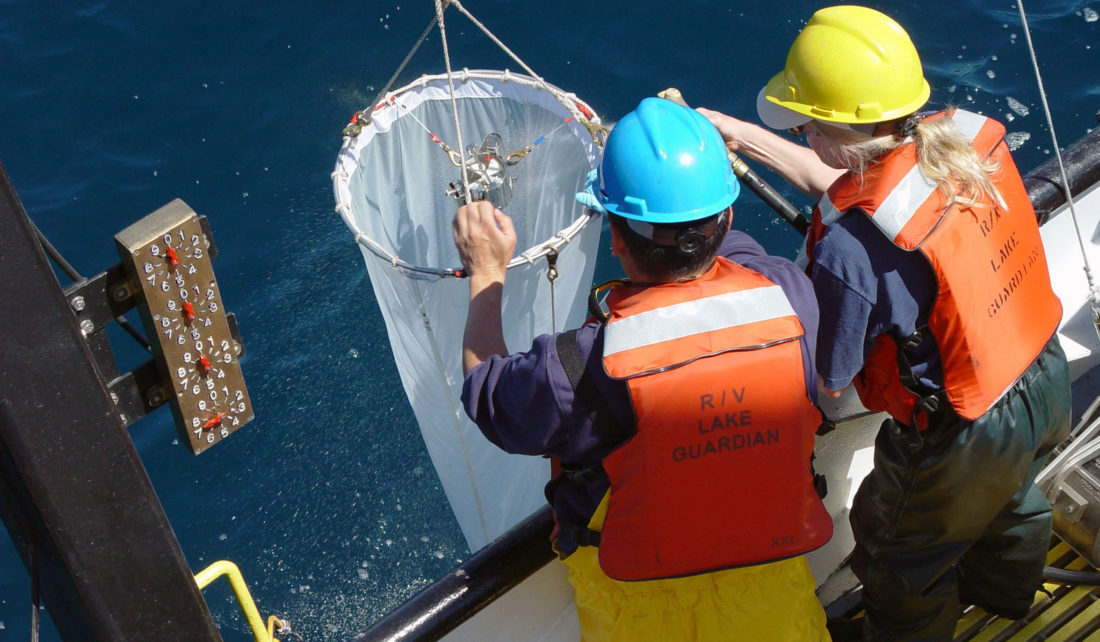 Happy spring, everybody! While none of us know what to expect in terms of COVID-19 this summer or fall, some aspects of normal life are returning. For example, research and monitoring on the Great Lakes is back—with new COVID guidelines. Through the Cooperative Science and Monitoring Initiative, this year, we are looking forward to being out and engaged in research on two lakes—Lake Michigan and Lake Superior—to make up for last year's cancellations.
In other news, our ace aquaculture team is creating new opportunities for consumers to learn more about local aquaculture and eating fish as part of a healthy diet. Amy Shambach, aquaculture marketing outreach associate, has created Eat Midwest Fish, a website that's full of information, including a fish finder map that shows users where fresh seafood is produced.
We've also kicked off a video series, Local Farmers, Local Fish, highlighting Illinois and Indiana aquaculture producers, with RDM Shrimp, located in Fowler, Indiana. Since the husband and wife team opened their doors in 2010, they have been raising Pacific white shrimp for the consumer market and teaching others how to do the same.
In other areas, we're developing education compendiums for teachers and parents to bring lessons and activities about natural resource issues to young learners. Freedom Seekers: The Underground Railroad, Great Lakes, and Science Literacy Activities acknowledges the enslaved Africans who had to rely on environmental science principles in their quest for life, liberty and the pursuit of happiness.
Our Explorer Series began last year with a focus on weather and climate. This collection of educational resources is sortable by grade, topic, learning mode and more to make it easy to find what you need. New explorer collections will discuss pollution sources, tracking contamination levels, and ways to prevent pollution. The NLRS Explorer, addressing nutrient pollution, will be coming soon, and the Pollution Prevention Explorer, which touches on a variety of types of contaminants—including medicines and plastics in local waterways—will be ready later this year.
Along these lines, eight educators who, over the years, have set sail on the Sea Grant Shipboard Science Workshop aboard the EPA research ship, the Lake Guardian, have shared how that experience has made a difference in their teaching and their students' lives. You can read their inspiring stories in Educators Onboard for Learning.
I am happy to announce that we have three new staff members who have recently joined us. Two positions are located in the EPA Great Lakes National Program Office and will focus on Area of Concern (AOC) remediation, restoration and revitalization.
First, Ashley Belle has switched roles in University of Illinois Extension—previously, she was an environmental and energy stewardship Extension educator and is now our Great Lakes AOC specialist who will engage in outreach with communities going through the cleanup process. Beata Fizser is our new AOC revitalization educator. She comes to IISG from Invenergy LLC, where she was a senior analyst on culture, innovation and impact.
Ben Szczygiel has joined Purdue's Department of Forestry and Natural Resources and IISG as a buoy and aquatic ecosystem specialist. He is coming from the State University of New York in Buffalo where he was a research assistant and will now be managing our buoy program.
We welcome these new members of our team!
Tomas Höök
Director, Illinois-Indiana Sea Grant
---
Illinois-Indiana Sea Grant is a part of University of Illinois Extension and Purdue Extension.