Skip to content
About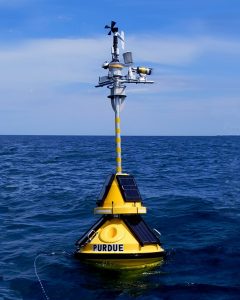 The Wilmette buoy serves many audiences. The National Weather Service uses buoy data to forecast wave and weather conditions, observe current conditions, and adjust forecasts to match changing conditions.
Recreational users of the lake also benefit from the data provided by the buoy. Boaters, anglers, paddlers, and surfers use the data to make decisions about their personal safety, i.e. assess conditions before traveling out for the day. Charter fisherman use the data to make decisions about the safety of their customers and crew, and also which locations will be good for fishing depending on the current wind, wave, and temperature conditions.
The Sheridan Shore Yacht Club and the Coast Guard in Wilmette help deploy and store this buoy each year. Henry's Sports and Bait shop in downtown Chicago helped deploy the anchor. The buoy was first deployed through a grant from the Great Lakes Observing System and the NOAA Coastal Storms Program.
Contact Info
Buoy Specialist
Ben Szczygiel
Research Coordinator
Carolyn Foley
765-494-3601
Campus Engagement Coordinator
Angela Archer
765-496-3722