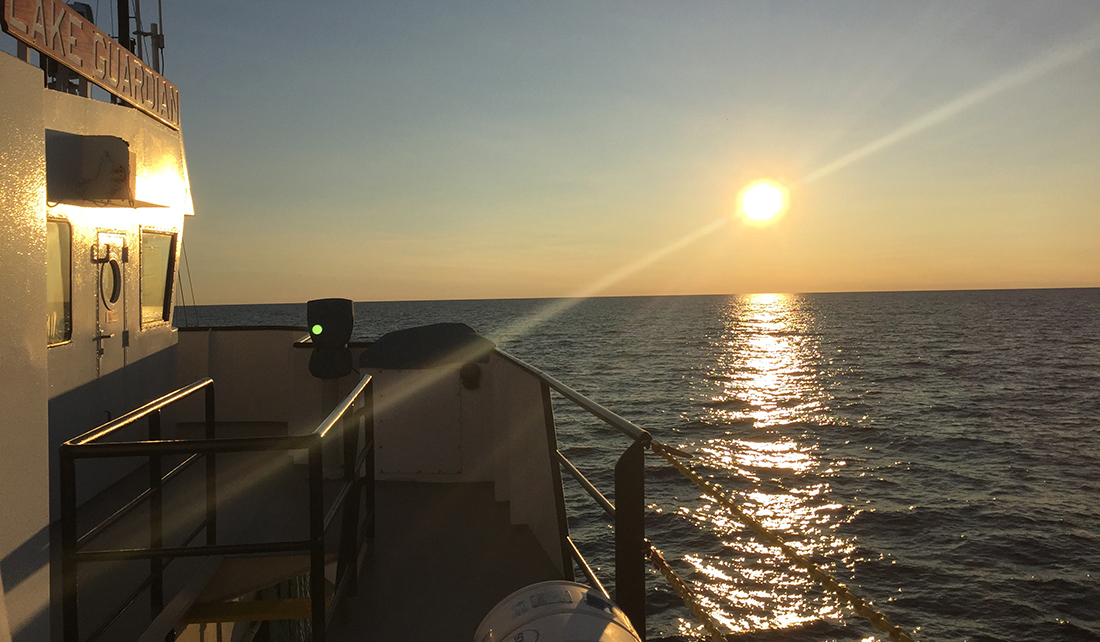 In 2020, Lake Michigan will be the focus of intense research and monitoring through the Cooperative Science and Monitoring Initiative (CSMI), which brings together federal, state and university scientists each year on one of the Great Lakes. In preparation for Lake Michigan's next field year, scientists, resource managers and others came together in Milwaukee last fall to begin discussing priorities and defining critical information gaps.
CSMI is a binational program organized through the U.S. Environmental Protection Agency Great Lakes National Program Office and Environment and Climate Change Canada. The International Joint Commission and Illinois-Indiana Sea Grant sponsored the October meeting.
At the University of Wisconsin-Milwaukee School of Freshwater Sciences, 60 scientists and resource managers met for two days to share their knowledge and perspectives and learn from each other. The conversation began with a review of main findings from previous Lake Michigan research, including results from the 2015 CSMI intensive sampling effort, which focused on learning more about:
Nearshore conditions and the movement of nutrients and organisms offshore.
The effect of nutrient loading on water quality.
The health and status of the lake's lower food web.
The movement of contaminants through the food web.
With everyone up to date, the focus turned to 2020. Through lightning talks and breakout discussions, participants hashed out pressing issues and essential data needs, as well as how best to support lake management efforts.
"As they talked through study ideas, the participants identified entities that would be engaged with the work, identified resource requirements including funding and equipment, and linked the proposed study to monitoring needs," said Paris Collingsworth, IISG Great Lakes ecosystem specialist.
Ultimately, the Lakewide Action and Management Plan (LAMP) for Lake Michigan partnership working group will set the official lake priorities after considering these expert opinions from scientists working around the lake, prior research results, and their own management needs. LAMPs are action plans for restoring and protecting the Great Lakes ecosystem and the LAMP working group includes representatives from federal and state agencies, as well as tribes.
While the group developed a number of potential research priorities over the two days, they also compiled a list of some over-arching recommendations for CSMI work. Some of these are: work to achieve a balance between exploring new topics and maintaining consistent, long-term monitoring programs; involve community (or citizen) science efforts as a way to supplement CSMI sampling; identify a central location for Lake Michigan scientists to share data and discuss sampling and analysis plans; and add sampling in winter and early spring.
To read the workshop report, visit IISG publication resources.
"While primarily written to help the Lake Michigan LAMP partners as they set research priorities for the 2020 intensive field year, we hope this summary can be useful to any researcher or entity interested in studying Lake Michigan," said Carolyn Foley, IISG research coordinator.
To learn about 2015 CSMI Lake Michigan results, see our Newsroom story, which provides a link to the full white paper.