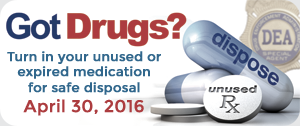 Do you have expired or unused medicine sitting around your house? How you choose to get rid of those drugs could hurt our waterways.
"Research has shown that there can be negative effects to animal health and reproduction from pharmaceuticals that haven't been removed from wastewater," said Sarah Zack, the pollution prevention extension specialist for Illinois-Indiana Sea Grant. "Wastewater treatment plants weren't designed to remove many of the compounds getting into them."
So, how should you get rid of your drugs? Instead of putting medicines in the trash or flushing them in the toilet, bring them to National Prescription Drug Take-Back Day 10 a.m.-2 p.m. April 30. There are 310 sites in Illinois and 135 sites in Indiana. The day is being hosted by the U.S. Drug Enforcement Administration, and people can find the nearest drop off location on the DEA's website.
There is a large and growing body of research available about the environmental impacts of pharmaceuticals in waterways, but any potential long-term human health impacts are not yet clear. So in the meantime, making sure we properly dispose of unwanted medications is a good bet.
"There are other reasons besides just water quality for making sure that your medicines are disposed of properly," Zack said, adding that pets and children can get into unused medicines around the house.
Besides taking medicine to take back programs, Zack said people should make sure they're communicating with their physicians about getting the appropriate quantities of medicine.
"Don't take a 90-day supply of a medicine if a 30-day supply is sufficient," Zack said.
Being cognizant of what's in your medicine cabinet and being willing to say "no," to samples of medication you don't need are other ways to decrease the amount of prescription drugs you own.
More than 5.5 million pounds of pills have been collected since the event was created in 2010, according to the DEA's website. Pills and patches may be dropped off, but the program cannot accept liquids or needles or sharps. The day is free and anonymous.
"It's really important that we have these events to give the public an opportunity to ensure that they are being responsible with medicines," Zack said.
If you are interested in setting up a permanent medicine disposal site in your local police station, contact Sarah Zack. You can also reach here on Twitter:@SarahAZack.
Ali Braboy is a senior studying journalism at the University of Illinois at Urbana-Champaign.