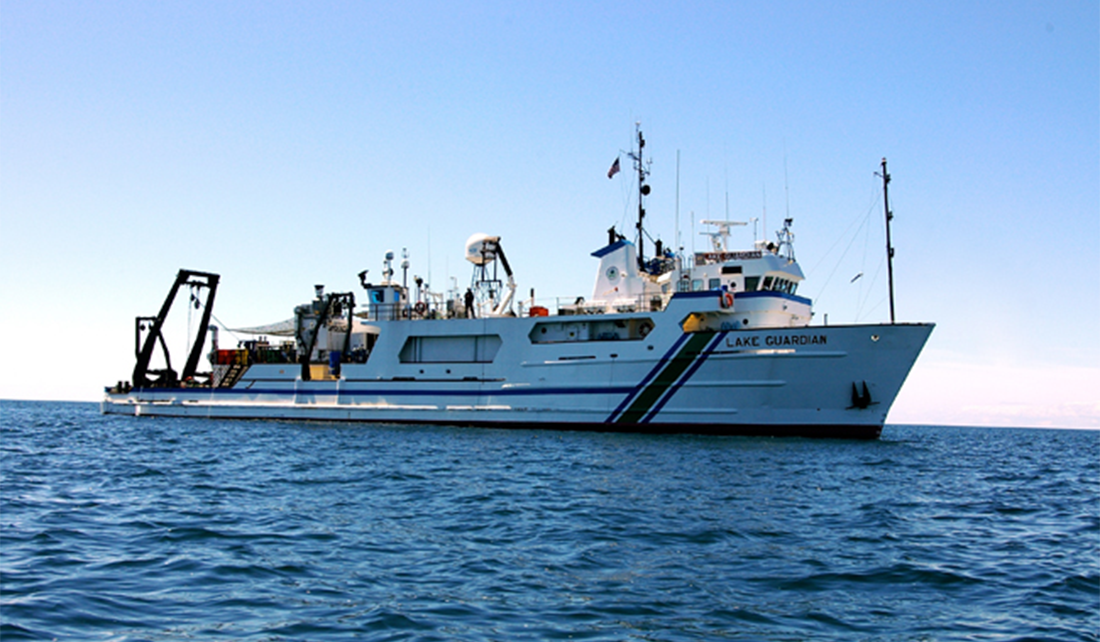 15 Teachers, 5 Great Lakes States, 1 Week on EPA Research Vessel Lake Guardian
Fifteen educators from five states along the Great Lakes will become scientists during the 2023 Shipboard Science Workshop on Lake Ontario aboard the Lake Guardian, the U.S. EPA Great Lakes National Program Office (GLNPO) research vessel. This unique workshop hosted by New York Sea Grant (NYSG) will take place July 6-12, 2023. The ship will depart from Rochester and make shore stops in Youngstown and Oswego.
Teachers from New York, Illinois, Michigan, Ohio and Wisconsin will learn alongside research scientists from the U.S. EPA GLNPO, the Great Lakes Research Consortium, the State University of New York College of Environmental Science and Forestry, and Cornell University.
NYSG Great Lakes Literacy Specialist Nate Drag will guide the teachers in developing lesson plans and curricula to take back to their classrooms to inspire students.
"This unique on-the-water hands-on learning experience increases teachers' understanding of the Great Lakes' unparalleled value and fosters creation of personalized teaching resources to spark student interest in the world's largest surface freshwater system," said Drag.
Among their activities, the group will take part in water sampling and be able to analyze the samples in on-board laboratories.
This Shipboard Science Workshop is supported with Great Lakes Restoration Initiative funding, through an interagency agreement by the U.S. EPA, National Oceanic and Atmospheric Administration (NOAA), and National Sea Grant Office. Learn more at www.epa.gov/great-lakes-monitoring/lake-guardian/ and www.epa.gov/great-lakes-monitoring/cooperative-science-and-monitoring-initiative-csmi/.
New York Sea Grant will be leading the Lake Ontario Shipboard Science Workshop in cooperation with the Center for Great Lakes Literacy, coordinated by all Great Lakes Sea Grant programs.
The 2023 Lake Ontario Shipboard Science Workshop teachers by state are:
New York
. Barbara Bibbins, Belleville-Henderson Central School, Belleville;
. Melissa Elliott, North Tonawanda High School, North Tonawanda;
. Joseph Perry, Palmyra-Macedon High School, Palmyra;
. Christy Pratt, Horseheads High School, Horseheads;
. Peter Spence, Byron-Bergen Jr/Sr High School, Bergen;
. Tara Spitzer-List, Virtual Academy of Rochester, Rochester; and
. Tucker Ruderman, World of Inquiry School #58, Rochester.
Illinois
. Jennifer Kahn, Libertyville High School, Libertyville; and
. Colleen McVeigh, Chicago Public Schools, Chicago.
Michigan
. Katrina Coyne, Flat Rock Community High School, Flat Rock;
. Natalie Cypher, Michigan Outdoor Adventure Center, Michigan Department of Natural Resources, Detroit; and
. Stephanie Dege, Posen High School, Posen.
Ohio
. Beth Schoonover, Stow-Munroe Falls High School, Stow.
Wisconsin
. Jennifer Koziar, Edgewood Campus School, Madison; and
. Dana Lex, West De Pere High School, De Pere.
MEDIA CONTACTS
. New York Sea Grant Great Lakes Literacy Specialist Nate Drag, 716-645-3610, nwd4@cornell.edu
. Publicist Kara Lynn Dunn: 315-465-7578, karalynn@gisco.net