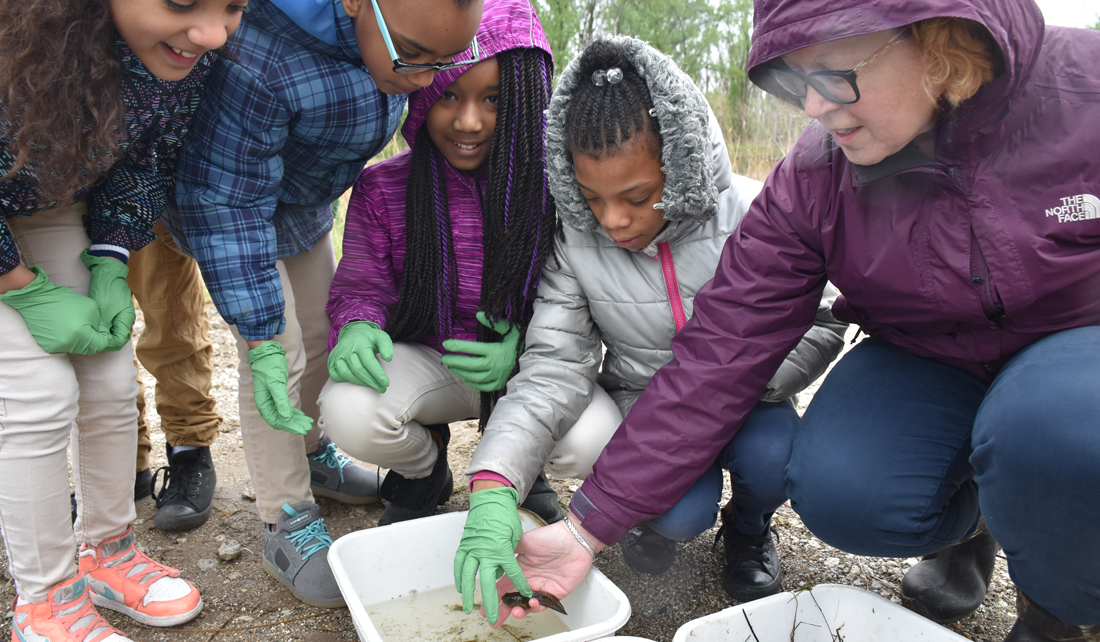 Leslie Dorworth, aquatic ecology specialist for Illinois-Indiana Sea Grant and Purdue University Northwest, teaches students about tadpoles during the seventh annual Grand Calumet River Stewardship Day on May 21, 2019. (Illinois-Indiana Sea Grant Photo/Hope Charters)
Forty fourth grade students from East Chicago spread out along the Grand Calumet River in May to learn about science and environmental stewardship. Through a series of hands-on, active learning stations, scientists taught students how life has returned to the previously degraded landscape. The field trip was part of the seventh annual Grand Calumet River Stewardship Day at the Seidner Dune and Swale Nature Preserve in Northwest Indiana. As these students head back to school and into the fifth grade, the hope is that—because of their participation in the stewardship day—they will have a renewed love for nature and a stronger tendency towards caring for the local environment as they grow older.
Scientists and agency leads joined the students at Roxana Marsh to help with fish identification, macroinvertebrate sampling, bird watching and dune and swale exploration. Special guests included Chris Korleski, director of the U.S. EPA Great Lakes National Program Office, and Tomas Höök, director of Illinois-Indiana Sea Grant (IISG).
The stewardship day served as a celebration of a successful remediation and restoration process thus far for the river. "The Grand Calumet River is an Area of Concern, which means that it has environmental degradation, has pollution, and the habitat has been fragmented, lost or taken over by invasive species," said Caitie Nigrelli, social scientist for IISG and the U.S. EPA, and organizer of the annual event. "We're working together with a lot of state, federal and local partners to clean it up and restore it.
The Grand Calumet River was once called the most polluted river in America. Through the Great Lakes Restoration Initiative, 2 million cubic yards of river and wetland sediment have been removed or capped and 84 acres of habitat have been restored. "If you clean up a portion of a river or a lake, people want to come fish," said Korleski. "Maybe somebody opens a bait shop, then somebody opens a coffee shop for the people who want to come fish. So, it's not just the environmental aspects that are critically important to us, but [cleanup] helps restore communities economically as well. It gives people more options and more recreational opportunities. It's a place that people want to be."
Grand Calumet River Stewardship Day is a place-based education program and part of IISG's efforts to connect students with local restored natural areas. The goal of the event is to increase students' attachment and belonging to the Grand Calumet River and surrounding nature, heightening their sense of place and encouraging them to protect and care for the river.
Learn more about the Grand Calumet River and other Areas of Concern on Nigrelli's website, Great Lakes Mud.
---
Illinois-Indiana Sea Grant is a part of University of Illinois Extension and Purdue University Extension.
Writer, Videographer: Hope Charters, 765.494.1614, hope@purdue.edu
Contact: Caitie Nigrelli, Environmental Social Scientist, 312.886.1430, cmccoy2@illinois.edu