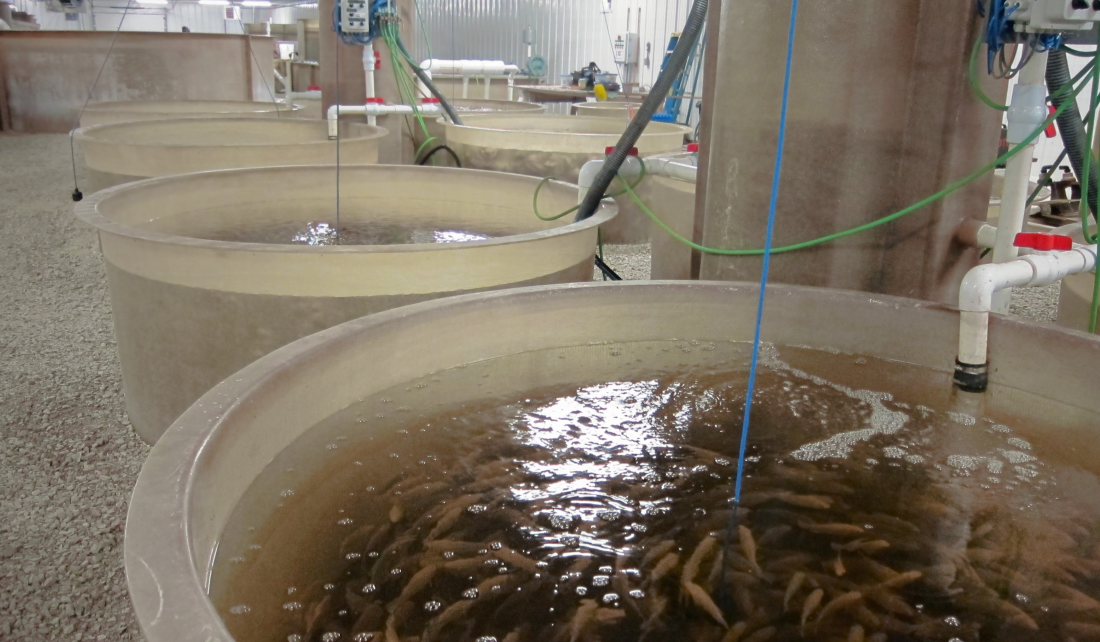 Six Great Lakes Sea Grant programs have been awarded $1 million to work together on a three-year project to increase aquaculture production and sales in the region.
The Great Lakes Aquaculture Collaborative is one of 42 research projects and collaborative programs totaling $16 million aimed at advancing sustainable aquaculture in the United States funded by the National Sea Grant Office. The awards are dependent on the availability of federal funds.
Despite the fact that the Great Lakes comprise one of world's largest freshwater ecosystems, aquaculture production in the region is failing to keep pace with increases in consumer demand for fish and seafood. This contributes to a national seafood trade deficit of $14 billion, second only to oil in the ranking of natural resource trade deficits.
"Through the Great Lakes Aquaculture Collaborative, our goal is to lay the foundation for an environmentally responsible, competitive and sustainable aquaculture industry," said Stuart Carlton, IISG assistant director. "And from the consumer perspective, to provide more opportunities to buy locally raised protein in the form of farm-raised fish."
Minnesota Sea Grant will lead the collaborative, and for its part, Illinois-Indiana Sea Grant (IISG) will explore perceived barriers to successful aquaculture operations in the Great Lakes region. Amy Shambach, IISG aquaculture marketing outreach associate, will interview producers, food distributors, grocers, restauranteurs and other key players to provide insights that inform efforts to improve aquaculture production and marketing.
"It is vital to the growth of the aquaculture industry in the Great Lakes region to not only assess the industry's needs but to then get that information into the hands of farmers," said Shambach.
The Great Lakes Aquaculture Collaborative is funded by National Sea Grant's Advanced Aquaculture Collaborative Program. This program seeks to build the capacity of Sea Grant and its partners to advance aquaculture in areas where a foundation of knowledge and activity currently exists but where significant barriers to sustainable domestic marine and Great Lakes aquaculture remain.
"These investments are critical to advancing United States aquaculture in sustainable, thoughtful ways using the best science and talent across the country," said National Sea Grant Director Jonathan Pennock. "With our 2019 investments, we can address critical gaps in information, understanding and connectivity of science to industry."
IISG was also awarded a second grant to study challenges to raising walleye in aquaculture production. "Walleye has a local identity—it has a strong association with the Midwest, is available in restaurants as a commercially caught species, and may be suitable for aquaculture," said Kwamena Quagrainie, IISG aquaculture marketing specialist.
Currently farm-raised walleye in Illinois and Indiana is minimal. Quagrainie, along with Carlton and Purdue University researchers Robert Rode and Joseph Balagtas, are leading a working group that aims to understand the business and real-world production barriers to raising these fish in an economically sustainable manner. National Sea Grant awarded them $96,000 to find answers.
"There is reason to believe that walleye aquaculture could be a boon in the two states, but a lot of background work needs to be done to see if it is even feasible," added Quagrainie.
---
Illinois-Indiana Sea Grant is a part of University of Illinois Extension and Purdue Extension.