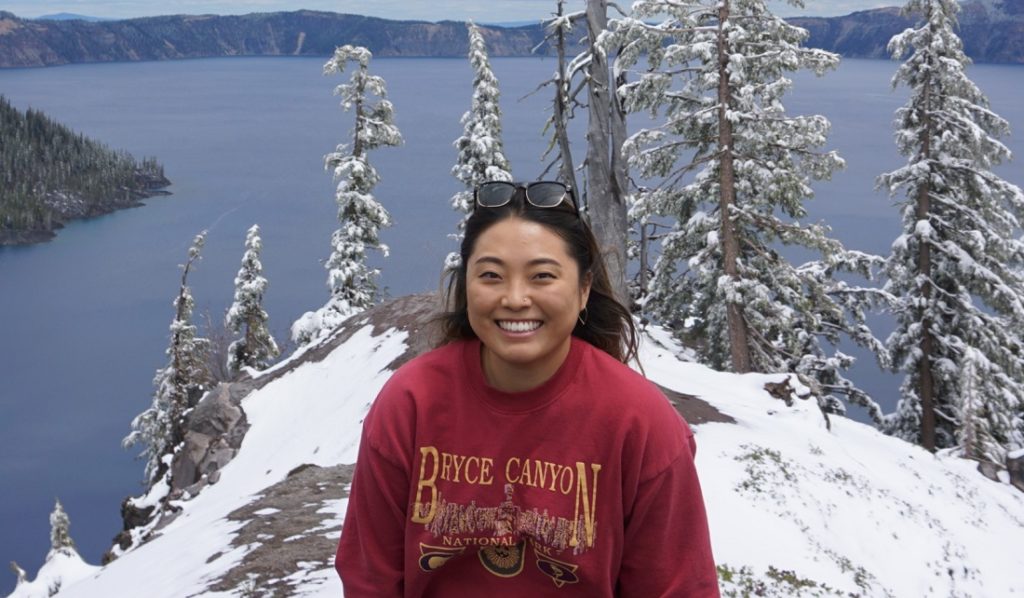 Illinois-Indiana Sea Grant (IISG) is pleased to announce Lisa Kim as a Knauss Fellowship finalist for the Class of 2019. A master's student at Loyola University in Chicago, Kim studies biology under advisor Tim Hoellein with a focus on anthropogenic litter in urban streams.
Kim currently works as an aquatic invasive species outreach assistant with IISG and the Illinois Natural History Survey. She has been improving her science communication skills both on and off the job. "I love to find different ways to effectively communicate science to our community," she said. "Lately, I've been using art as a way to do this."
As a previously undocumented student, another of her interests lies in supporting and encouraging other students who may be in a similar situation. "Storytelling is a passion of mine," she said, "and I always hope to find different platforms to share my story and encourage other underrepresented students to be resilient in pursuing a higher education and working towards their dreams in the midst of their hardships."
The Knauss fellowship provides a unique educational experience to students who have an interest in ocean, coastal and Great Lakes resources and in the national policy decisions affecting those resources. Knauss finalists are chosen through a competitive process that includes several rounds of review at both the state Sea Grant program and national levels. The program matches highly qualified graduate students with "hosts" in the legislative and executive branches of government located in the Washington, D.C. area for a one-year paid fellowship.
Kim will be attending Placement Week in mid-November to determine her host office in 2018. Follow her on Twitter at @kimhlisa.
Placement of 2019 Knauss finalists as fellows is contingent on adequate funding in fiscal year 2019.
For more information about the Knauss Fellowship and other opportunities, visit our Fellowship page, or contact Angie Archer.
Illinois-Indiana Sea Grant is a part of University of Illinois Extension and Purdue University Extension