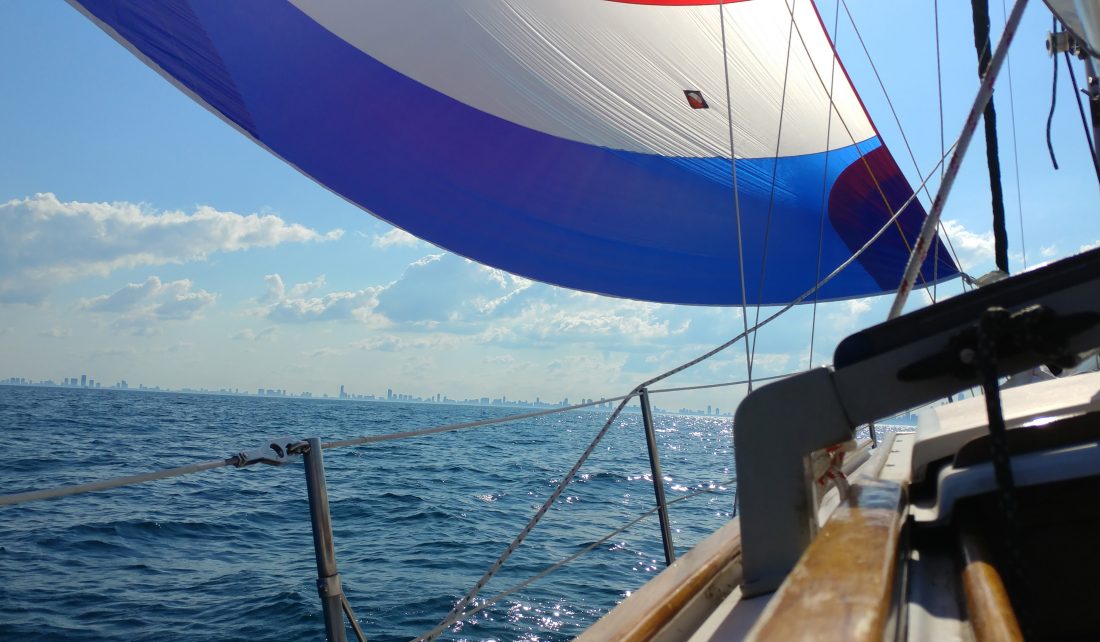 I am happy to announce the publication of Illinois-Indiana Sea Grant's (IISG) latest impacts in Illinois, Indiana, and the Great Lakes region. This booklet provides an opportunity to raise awareness of critical coastal issues, proudly share our success stories, and thank our partners.
While the impacts reported in this publication by no means encompass all of our efforts, they do provide insight into many of the activities and issues we focus on. Impacts include training communities to address flooding concerns through green infrastructure, informing the decision process to deal with the threat of aquatic invasive plants in Illinois, Indiana and beyond, and having a positive influence on the careers of researchers and their students. We also helped inform natural resource planning on the community and regional scale, supported local efforts to dispose of medicine safely, and through workshops and other support, helped educators bring aquatic and Great Lakes science to their classrooms.
Through the dedication and creativity of IISG staff members, as well as support from our many partners who provided funding, networks, expertise, and other resources, IISG is able to make a difference in the Great Lakes region, particularly in Illinois and Indiana.
I would also like to take a moment to share some IISG staff changes. Our program aims to address topics that are highly relevant for Illinois and Indiana, while also ensuring that our activities align with National Sea Grant and NOAA-wide initiatives. As priorities evolve both locally and nationally, so does our program.
Over the past several years, the National Sea Grant Office has increased investments to enhance aquaculture production and improve marketing and economic opportunities related to fish farming. This national focus on domestic aquaculture is due in part to the need to make up for the global exploitation of wild fish stocks, as well as the US's large trade-deficit for fish and seafood products. Our area of the country is a huge food producer, and we believe there is now a great opportunity to also grow fish production here.
Aquaculture has long been a focus of IISG, going back several decades. Since 2006, Kwamena Quagrainie has been our aquaculture marketing specialist, working closely with producers to improve production and tap into new markets. Now, Amy Shambach has joined the team as the program's aquaculture marketing outreach associate. In this new position, co-funded by the North Central Regional Aquaculture Center, she will help investigate consumer-side demand for food-fish aquaculture throughout the Midwest. Amy's work will contribute to the new Great Lakes Aquaculture Collaborative, helping to inform producers as well as future research.
As we welcome new Sea Granters, we also must say farewell to those who have moved on to other endeavors. Thank you to Yu-Feng Lin who served as IISG's associate director since late 2017. Yu-Feng provided administrative oversight for the University of Illinois side of the program. He will now be focusing on his other duties, serving as principal research hydrogeologist with the Illinois State Geological Survey and director of the Illinois Water Resources Center. Until a new permanent associate director is named, Pat Charlebois, IISG's outreach program leader, is serving in this role.
Tomas Höök
Director, Illinois-Indiana Sea Grant
---
Illinois-Indiana Sea Grant is a part of University of Illinois Extension and Purdue Extension.