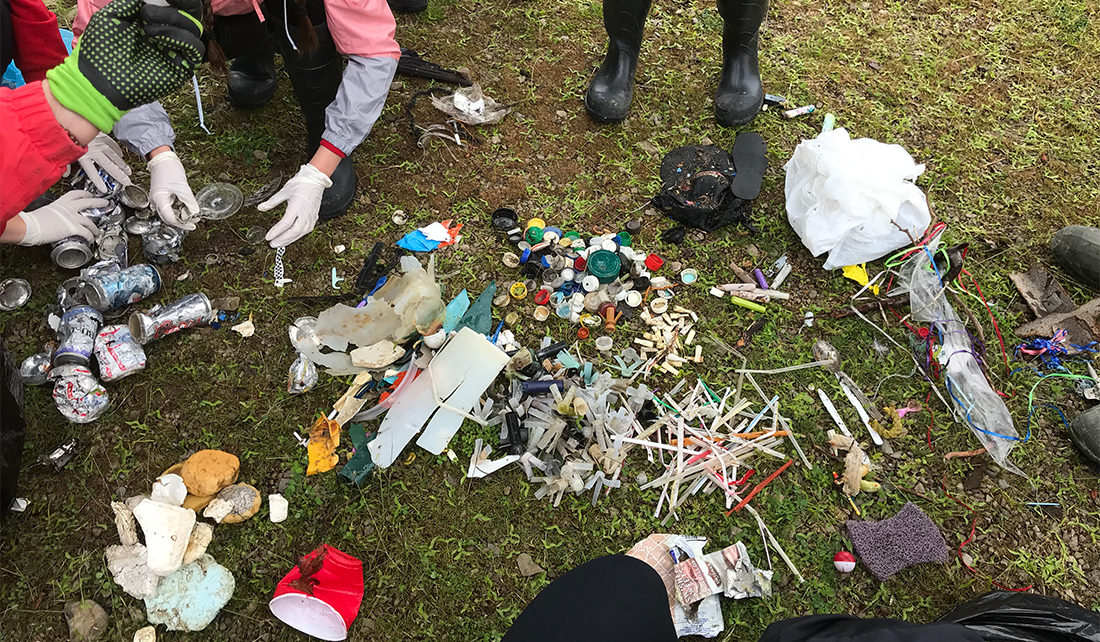 Assorted plastic debris collected in a cleanup around the Great Lakes. (Photo credit: NOAA Marine Debris Program)
NOAA Sea Grant and the NOAA Marine Debris Program announce the funding of six new, creative projects to tackle marine debris challenges across the country. This year's projects focus on preventing the introduction of marine debris into marine, coastal and Great Lakes environments.
Marine debris can include the trash we throw away every day—such as plastic bags, cigarette butts, foam take-out containers and balloons—that end up in rivers, lakes or oceans. It can also range greatly in size from small pieces of plastic that can't be seen with the human eye, to large derelict fishing nets and abandoned vessels. These items become marine debris as a result of littering, dumping, ineffective or improper waste management, and disasters, and can have many adverse effects on wildlife, the environment and coastal communities.
"By preventing marine debris, we can reduce the impacts of this global problem," stated NOAA Marine Debris Program director Nancy Wallace. "We are pleased to partner with NOAA Sea Grant to provide support for projects that will help stop trash and fishing gear at their source."
The six competitively selected projects cover the southeast Atlantic, Pacific and Great Lakes waters, coming from Florida, Georgia, Hawai'i, Illinois-Indiana, Puerto Rico and Wisconsin Sea Grant programs. Project activities include incorporating data of marine debris items removed from marinas into outreach and education materials, repurposing shrimp trawl nets into marine debris collection bags, developing a coordinated marine debris messaging campaign for the Great Lakes region, creating comprehensive curricula related to marine debris prevention, outreach to prevent recreational fishing debris, and using storytelling to inspire new audiences. These marine debris projects were awarded $300,000 in federal funding and are matched by non-federal contributions, bringing the total investment to approximately $600,000.
To help align the projects with the Marine Debris Program's Strategic Plan and Regional Marine Debris Action Plans, the Marine Debris Program's regional coordinators will collaborate with project leaders throughout the award period. The project activities begin this summer and will continue for up to two years.
In the Great Lakes region, Illinois-Indiana Sea Grant is focusing on reducing plastic pollution through outreach and an educational campaign. Pollution Prevention Specialist Sarah Zack has been granted $49,850 in new funding to develop a coordinated, regional and binational (U.S. and Canada) marine debris messaging campaign for the Great Lakes region to prevent the introduction of marine debris into the Great Lakes ecosystem. This comprehensive awareness and prevention campaign will provide audiences with the necessary calls to action to make informed decisions about their use and disposal of plastic goods. Development of a focused messaging campaign and "prevention kits" will be coupled with a strategy for outreach and distribution for the entire Great Lakes region.
"Plastic trash is the most commonly found type of marine debris on Great Lakes beaches," said Zack. "I'm excited to be working with NOAA and Great Lakes Marine Debris Action Plan partners to develop messaging that will reach people with an effective call to action to reduce plastic debris on shores throughout the Great Lakes region." Follow Zack and her team on their Great Lakes Pollution Prevention Twitter page, where they share tips and tricks for reducing, reusing and recycling plastics.
"The continued effort between Sea Grant and the Marine Debris Program leverages the strengths of both programs to effectively address marine debris challenges nationwide," noted National Sea Grant College Program director Jonathan Pennock. "We look forward to seeing the implementation of these new and creative strategies for marine debris prevention."
This is the second year that Sea Grant and the Marine Debris Program offered a joint funding opportunity. Projects funded in the first year of this partnership aimed to reduce marine debris across the U.S.
---
Illinois-Indiana Sea Grant is a part of University of Illinois Extension and Purdue Extension.
Writers: Hallee Meltzer, Hope Charters
Contact: Sarah Zack