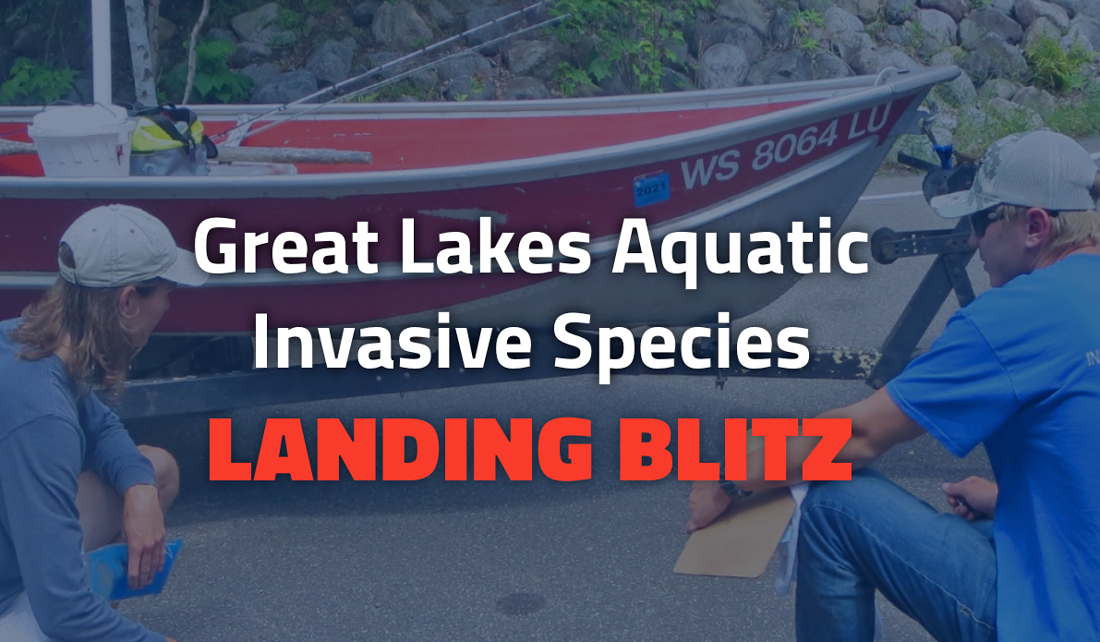 Partners at hundreds of water access sites throughout the Great Lakes region are set to participate in an AIS Landing Blitz from June 28 to July 7 to inform boaters and others of the risks of introducing and spreading aquatic invasive species (AIS).
Volunteers, along with paid inspectors, will be partnering with state and local agencies at boat launches to educate visitors on procedures used to prevent the spread of AIS, ways to identify AIS, protocols for reporting an AIS discovery, and local AIS laws and regulations.
Illinois-Indiana Sea Grant (IISG) has partnered with Lake County Forest Preserves and will be at the Fox River Forest Preserve boat launch on Saturday, June 29 teaching people simple steps to help prevent the introduction and spread of aquatic invasive species in Illinois. On the same day, staff from the Indiana Department of Natural Resources will be helping people at Lake Wawasee and Syracuse Lake public access ramps.
While similar events have been hosted in previous years, this is the first time that all of the Great Lakes states and provinces are involved and coordinating efforts to maximize the event's impact.
"This is the first time that these valuable educational events will be held simultaneously across the entire Great Lakes region," said Greg Hitzroth, an aquatic invasive species outreach specialist with IISG and Illinois Natural History Survey. "It's a chance to work directly with boaters and deliver a coordinated, regional message about the importance of AIS prevention during the busiest boating weekends of the year."
Working with local communities and volunteers will be key to the success of the event, says Jordan Wood, an AIS outreach assistant who works with Hitzroth.
"Boaters will have the opportunity to engage directly with volunteers in their community during the Blitz," Wood said. "Seeing community members taking time out of their day reinforces that it takes all of our efforts to help protect our lakes and rivers, including the Great Lakes, from the unwanted impacts of invasive species."
For more information on the AIS Landing Blitz, including educational materials, locations and volunteer opportunities, visit www.glc.org/blitz. For more information on IISG's Be A Hero – Transport Zero campaign, visit TransportZero.org.