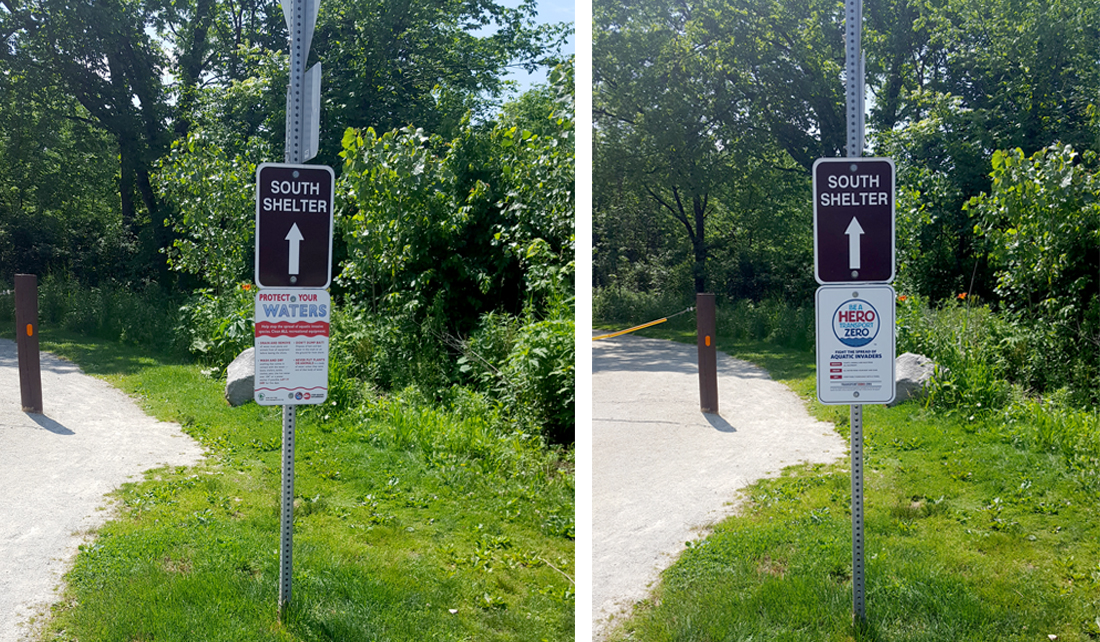 Forest Preserve District of DuPage County, Illinois, home to 25,000 acres and more than 29 actively managed water bodies, now displays over 120 signs bearing the Be A Hero—Transport Zero™ (BAH) message. The change from the older "Protect Your Waters" signage grew out of the recent statewide adoption of BAH as the primary invasive species awareness campaign in Illinois.
Dan Grigas, a fisheries ecologist at the Forest Preserve District of DuPage County, was heavily involved in getting the signs installed with the help of Illinois Department of Natural Resources. The signs also serve as an important reminder to boaters to follow the law that makes it illegal to leave a waterbody with aquatic plants or animals attached to a boat or trailer.
"We're trying to keep everybody on the same message," Grigas said. "And now that there are more signs in places where there's boater access, people won't be able to say to law enforcement, 'I didn't know.'"
In 2013, Pat Charlebois, IISG aquatic invasive species coordinator, and her team developed the campaign that encourages recreational water users to take simple steps—remove, drain, and dry—after a day on the water.
An IISG survey of boat show attendees found that people who have heard these messages are more likely to take action to prevent the spread of invasive species.
"We're excited that DuPage has joined the campaign in such a big way," Charlebois said.
"We gladly welcome new partners to Illinois' Be A Hero campaign—terrestrial and aquatic!"