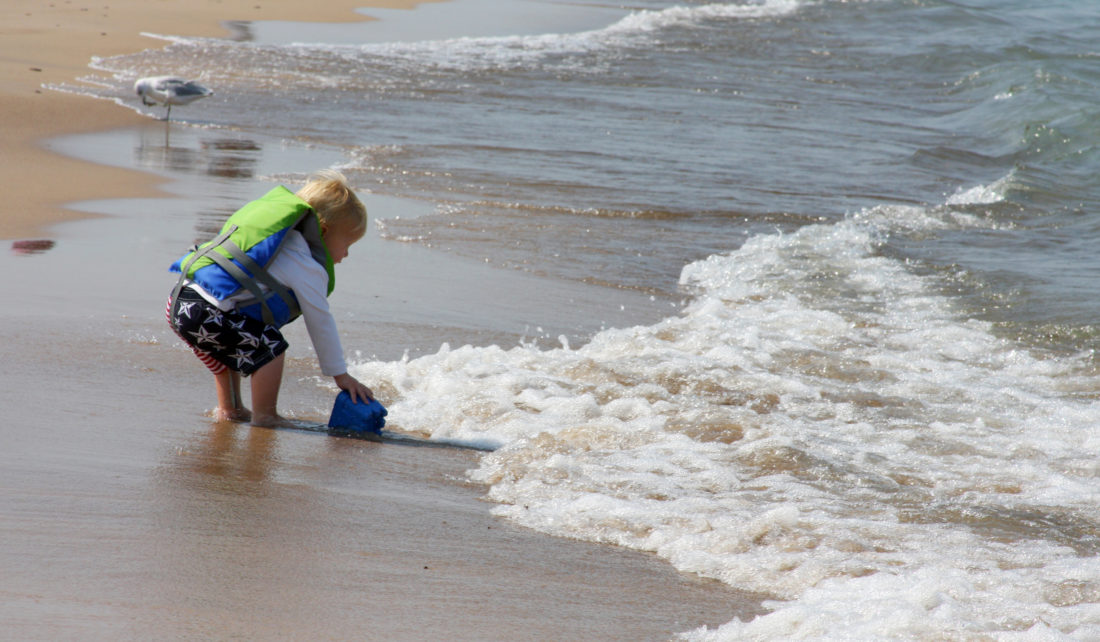 Summer brings us many of us outdoors, and so at Illinois-Indiana Sea Grant (IISG), we turn some of our attention to providing data and guidance to help people make wise choices regarding recreational activities around Lake Michigan or other water bodies.
This is prime buoy season, and in early May, our new Chicago buoy was placed in the waters off Navy Pier, one of the busiest boating sites in the Great Lakes. This buoy is helping inform decisions for the Chicago office of the National Weather Service, as well as water recreationists, with real-time data of the lake's conditions right there.
Chuoy, as it is fondly called, joins our two other yellow buoys in the waters near Wilmette, Illinois and Michigan City, Indiana—all three are overseen by Ben Szczygiel, our buoy specialist.
In addition to their benefits for forecasting and water safety, the buoys provide a useful research tool. In fact, a Purdue University researcher is using buoy data in his Sea Grant-funded study to assess changes in southern Lake Michigan water levels and wave conditions and potential impacts for shoreline management.
With Lake Michigan considered the most dangerous of the Great Lakes in terms of strong currents and, consequently, drownings, water safety is a priority for IISG.
Along with providing more buoy data, we have redesigned and enhanced the website, Lake Michigan Water Safety to include safety tips for swimming, boating, and fishing, both before heading out and while on or in the water. Also on the website, IISG's Leslie Dorworth has compiled on-the-ground and online resources for beach managers and others looking to raise awareness and provide safety tips.
This year also kicked off a new research project to assess the impact of the Chicago Park District's community water safety training and develop a swimming instruction program in Evanston, Illinois that will be adapted for implementation in other Chicago communities. A researcher from the Lurie Children's Hospital of Chicago is leading a team focused on decreasing drownings at Lake Michigan beaches.
If you're along the lakefront Labor Day weekend, look up! Our aquatic invasive species team is reaching audiences in new ways, including with an airplane banner. In the spirit of our Be A Hero campaign, the plane is flying a message reminding everyone to help prevent the spread of aquatic invaders.
Back indoors, summer is also intern season for IISG. This year, eight undergraduate students are assisting program specialists. Some of their tasks include working on rain garden design and implementation, invasive species outreach, youth education, and factsheet and video development. IISG is also collaborating with Shedd Aquarium to support an intern whose summer project is focused on neglected infrastructure in underserved Chicago neighborhoods.
In other news, we recently announced a new video series that features five cities that are or were in Great Lakes Areas of Concern—Duluth, Buffalo, Sheboygan, Ashtabula, and Muskegon. Local waterways have undergone cleanup of extensive legacy pollution and the cities are now enjoying the benefits of this in terms of improved and increased recreation, tourism, housing, and business development.
Looking at the big picture, 2022 is Illinois-Indiana Sea Grant's 40th anniversary. As we plan our celebration, we are also in the midst of strategic planning—assessing priorities for four more years. A perfect moment to look at how the program has evolved and grown over time and to ponder what we can do be the most impactful going forward.
Tomas Höök
Director, Illinois-Indiana Sea Grant
---
Illinois-Indiana Sea Grant is a part of University of Illinois Extension and Purdue Extension.