University research projects often include an opportunity for a few students to get real-world field or laboratory experience. At Loyola University Chicago's Micro Eco Lab, biologists Tim Hoellein and John Kelly have often found ways to connect students with their work. But when they set out to implement the lab's recent Illinois-Indiana Sea Grant project, opportunities for students really took off.
To accomplish this ambitious, comprehensive study to assess microplastic levels in Lake Michigan waterways efficiently and timely, Hoellein and Kelly brought on a post doc to oversee the project. Rachel McNeish looked to students to get much of the work done and the pool of helpers grew to dozens—35 in all, including graduate, undergraduate, and high school students.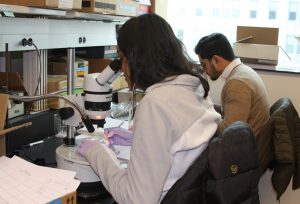 "Students were involved with fieldwork, sampling and processing," said McNeish. They did all the lab work, including data curating—making sure it was entered correctly. Some students have been in charge of specific aspects of the process, making sure it is happening as it should. They then have an opportunity to take a portion of the dataset, analyze it, and present it on campus or at professional conferences."
For Masters student Lisa Kim, her time spent working on microplastic research and outreach turned out to be life changing. She started her undergraduate tenure at Loyola as a pre-med student, but changed directions after her experience working on the Sea Grant project. "I really fell in love with lab work—getting samples and processing them, and then data analysis and even presenting the results on campus," said Kim.
She is now an author on the first journal article from the IISG microplastic study, which thus far has found plastic microfibers in the water, sediment and fish in three main Lake Michigan rivers.
Kim is also working on her own research and is exploring opportunities to engage in outreach and in the policy process. "I really want to communicate information about microplastic pollution with everyone. I feel like I got experience working in the lab and doing research, but now I want to bridge the gap between scientists and the community."
The students come from diverse backgrounds, including some who are first generation college students, and bring a range of interests and experiences. Many are new to the tasks at hand.
"My first time in the field was quite the challenge, balancing being in the canoe with sediment samples and other heavy equipment, all while trying to collect different types of samples from the water," said Melissa Achettu, a Loyola junior.
Achettu, who has now been working on the IISG project for 18 months, has been funded by two Loyola fellowships to help with the study and to present findings at an international conference this spring.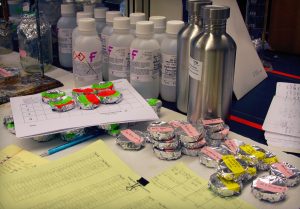 With Loyola's setting in Chicago, some students are also experiencing nature and camping for the first time. And with such a busy lab, they are developing leadership skills and learning to work together.
"I enjoy working in the lab with so many other students because it's a great learning experience when people of so many backgrounds come together," said Achettu. "Everyone has their unique inputs and ideas. We all learn patience, teamwork and communication skills."
McNeish puts herself in that camp. "Undergraduate students have just been phenomenal the whole time I've been doing research and throughout my education," she explained. "I feel like I can teach them many things, but they can also teach me a lot too. It's a two-way learning system. And working with a large group, everyone has something to learn."
As the research wraps up, McNeish herself is moving on to a new opportunity. She will start a tenure-track faculty position at California State University Bakersfield this August where, as a freshwater scientist, she plans to develop her own student-focused research program.