Posted July 29th, 2016 in
News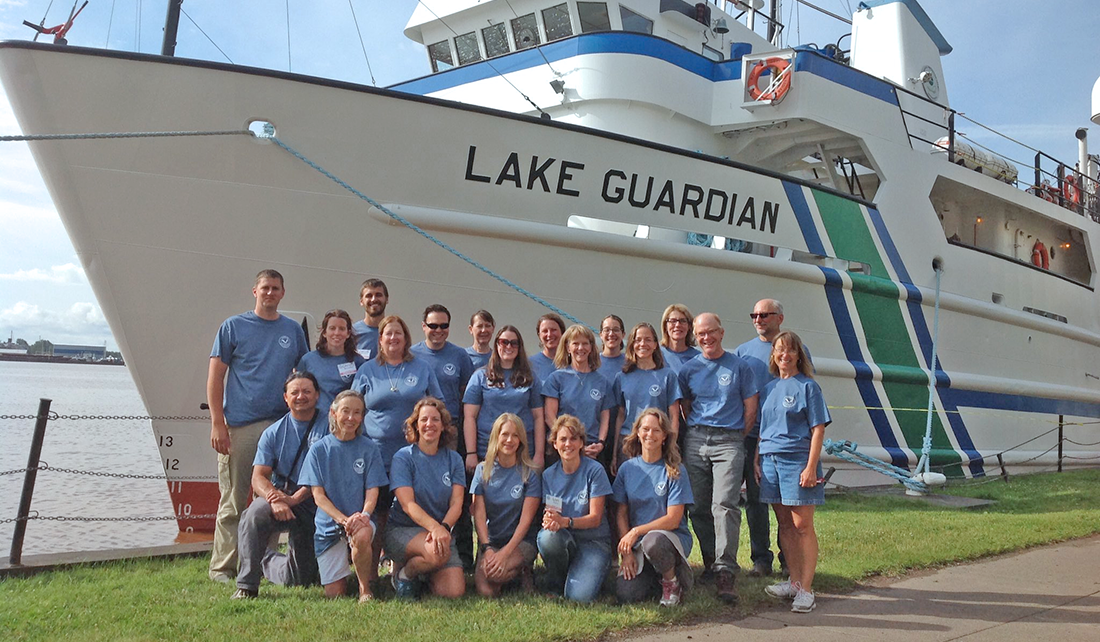 Participants from last year's Shipboard Science Workshop pose in front of the U.S. EPA R/V Lake Guardian.
Listen to Kristin TePas' radio interview with University of Illinois Extension's Todd E. Gleason below.

Fifteen educators are once again on dry land recovering from a schedule just as packed as the Lake Guardian's quarters. The 2016 Shipboard Science Workshop on Lake Superior aboard the U.S. EPA Great Lakes National Program Office research vessel wrapped up last week. The annual workshop was hosted by Center for Great Lake Literacy and led by Minnesota Sea Grant.
Using state-of-the-art sensors, the teachers, alongside four research scientists from Minnesota and U.S. EPA, took part in water sampling—all day and night—to evaluate the presence of zooplankton, aquatic invasive species, and water quality and nutrient differences over time.
The teachers analyzed the samples in on-board laboratories and presented their findings after the ship dropped anchor. But their work is just beginning. The teachers now have the task of inspiring their own students to become Great Lakes scientific explorers.
"So many of our labs we do in class, the students have to do an experiment that simulates what would happen in real life," Ashlee Giordano a science teacher at Northfield Jr./Sr. High School in Wabash, Indiana. "It is meaningful, however, showing students what I did, and the data we collected would really hit home for them."
This year's cruise received some special attention from University of Illinois Extension's radio personality Todd E. Gleason who interviewed IISG community outreach specialist and liaison to U.S. EPA Kristin TePas over the phone while she was still on the trip. The interview was aired on stations throughout Illinois.
"We really want them to be more comfortable with science and understanding the process of research," TePas said.
The exhaustive effort scientists go through was not lost on Cheryl Dudeck, a biology and human anatomy teacher at King College Prep High School in Chicago.
"I was surprised by how many people it takes to complete one week of research. I also was surprised to find out that the research happens 24/7 and how it changes with the weather conditions," Dudeck said.
"I think that most people do not understand the importance and complexity of the Great Lakes."
Illinois-Indiana Sea Grant is a part of University of Illinois Extension and Purdue University Extension.