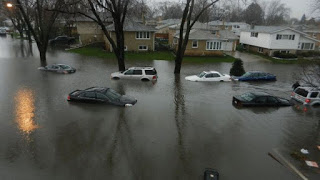 Enough rain fell in Texas over the past month to cover the entire state in more than eight inches of water. The Trinity River in Dallas has risen to levels not seen in over 25 years. Flooding has resulted in $45 million worth of damage in Houston alone, and at least 31 people have died, with 10 still missing. As recovery in the Lone Star State begins, it becomes clear just how important urban flood management is, not only for the safety of people, but for the health and well being of the environment. Next month, Chicago, no stranger to flooding itself, will be the host location to a workshop confronting these very issues.
On July 8, IISG climate specialist Molly Woloszyn will be overseeing the next Resilient Chicago workshop:
Urban Flood Management through No Adverse Impact and Green Infrastructure.
Following up on a workshop from last year, this free, one-day event offers local government staffers and other interested professionals the opportunity to learn how to prepare for flooding in a more efficient and ecologically-conscious way.
City planners, engineers, and members of non-profit organizations are called to gather at Loyola University to hear presentations from the Association of State Floodplain Managers,

the Metropolitan Planning Council, the City of Chicago,

and many others.
The two primary foci of the workshop will be how to apply No Adverse Impact (NAI) floodplain management and integrating green infrastructure into comprehensive and capital improvement planning. By focusing on NAI floodplain management, the workshop will provide potential management solutions that can be applied from strictly flooding related problems to issues like water quality protection and stormwater management. And in showcasing the potential for green infrastructure, attendees will learn how to cope with the increased potential for soil saturation that comes with urban development. The workshop will be sponsored by ASFPM, and the NOAA Coastal Storms Program.
.