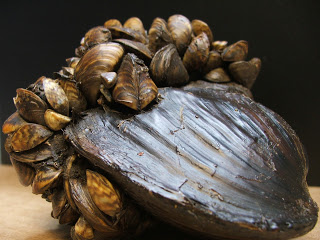 We're continuing our celebration of Illinois Invasive Species Awareness Month with a few words from Cathy McGlynn, coordinator of the Northeast Illinois Invasive Plant Partnership, on how invasive species have changed our aquatic ecosystems.
I am your local co-coordinator of the Clean Boats Crew, an aquatic invasive species education and outreach campaign that is a collaboration of Illinois-Indiana Sea Grant and the Northeast Illinois Invasive Plant Partnership. My colleagues and I care very much about protecting aquatic ecosystems, and we know the value of prevention when it comes to invasion.
I haven't always lived in the Chicago region. Once upon a time, I was a field biologist who lived in the Hudson River Valley and spent countless summer days canoeing to my research sites in the morning mist on the majestic Hudson River while being very careful to avoid tugboats and their wakes. I surveyed marsh birds and small mammals to see how invasive plants were impacting them. It turned out that native birds with special requirements, such as the marsh wren, were losing their nesting habitat to the invasive common reed. In between sites, I battled my way through beds of water chestnut, an aquatic invasive plant that has not yet been found in the Chicago area. I helped to survey and monitor native aquatic plants on the river with a team of volunteer kayakers because these plants provide important habitat for young fish, crabs, and insects and needed to be tracked. I was always careful not to walk around barefoot on the river's beaches to avoid cutting my feet on zebra mussel shells or stepping on the barbed fruits of the water chestnut. During the time before I moved to this region, rock snot and Chinese mitten crab were starting to threaten the Hudson River and its wetlands.
After writing all of this, I realize that I don't know a time, in my life anyway, that invasive plants and animals weren't arriving and changing the Hudson River ecosystem.
Based on what I hav
e learned in the five years I have been living near Lake Michigan, it seems that a similar history has unfolded for this amazing water body. I often wonder what it would be like if all invasions were prevented or ended upon arrival. I imagine a completely successful aquatic invasive species education and outreach program. The perfectly-executed Clean Boats Crew with 100 percent support from everyone with whom we've ever interacted and all the people with whom those anglers, boaters, and recreational water users communicated.
I imagine what Lake Michigan would look like and what creatures would be found there. I imagine a lake that does not have waters which have been filtered clean by zebra and quagga mussels and are clear and blue like the Caribbean. Rather I picture darker, murkier waters that contain all the tiny plants and animals that make up the phytoplankton and zooplankton that feed native fish and mussels.
In this imaginary world, no one in the entire Great Lakes region is worried about the arrival of Asian carp and the lamprey eel has stayed in the Atlantic Ocean. Viral hemorrhagic septicemia is not found in any fish throughout the lake. And round goby has never out-competed sculpin and logperch. Anglers happily fish native and non-invasive stocked fish and boaters readily remove plants and animals from their boats, drain their bilges and bait buckets, and dry their vehicles for five days because that is what needs to be done to protect our precious aquatic resources.
I imagine people stopping by our Clean Boats Crew booths at marinas and fishing tournaments in northeastern Illinois and northwestern Indiana. Fortunately, that at least can become reality later this month.