Skip to content
Cooperative Science and Monitoring Initiative (CSMI)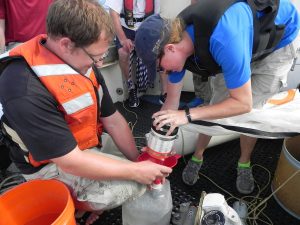 CSMI is a binational program organized through the U.S. Environmental Protection Agency Great Lakes National Program Office and Environment and Climate Change Canada. Illinois-Indiana Sea Grant specialists help coordinate researchers and share results through meetings, reports, and outreach products.
Paris Collingsworth, IISG Great Lakes ecosystem specialist, provides leadership in collaboration with EPA scientists, defining critical questions and coordinating research efforts of various agencies for large-scale studies. He works with the Lakewide Action and Management Plans partners for each lake as they define research priorities, and coordinates with scientists as they set up studies and analyze data. Paris is also helping Great Lakes Sea Grant programs to develop CSMI outreach products to share research results.
While Paris is involved with work on all five Laurentian Great Lakes, IISG's Kristin TePas and Allison Neubauer have been developing Lake Michigan-specific informational products for local stakeholder groups.
Cooperative Science and Monitoring Initiative (CSMI): Lake Michigan 2015 Report