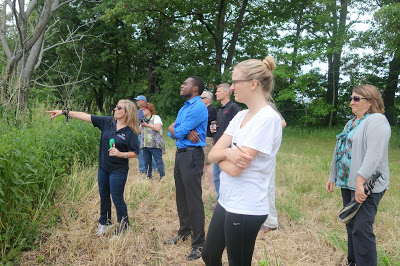 The first step in useful communication is to listen to your audience. By addressing the perceptions and needs of a community, information can really have impact. With this mission in mind, IISG Environmental Social Scientist Caitie Nigrelli and her intern Carly Norris went to the Zephyr site in Muskegon County in Michigan.
The name, short for the former Zephyr Oil Refinery, refers to property on the Muskegon River that was polluted and contaminated from decades of oil spills beginning at the turn of the twentieth century.
But before permits are pulled and backhoes are delivered, Nigrelli and Norris, as environmental scientists, talk to the people who are being affected — to find out what their concerns are, what they'd like to see happen.
So they interviewed community stakeholders about how they feel about an area that was at one time ranked by the Michigan Department of Environmental Quality the fourth most hazardous in Muskegon County.
Regardless of its dirty and neglected past, many in the community are interested in seeing its eventual remediation and recovery, Nigrelli and Norris found.
"I was really pleased with the diversity of the people we talked with. It really helped me understand the interests and concerns of the stakeholders," Nigrelli said. "Something that kept coming up was the importance of clear, consistent communication with the property owners adjacent to the site. Now we know where to focus our efforts."
Norris added, "Incorporating community members in the cleanup process helps create an outcome more tailored to local views and ideas."
Their contribution is one of several steps that traditionally take place before remediation under the
Great Lakes Legacy Act
occurs.
The cleanup could get started as early as 2016. For more information and to follow the status of the project, visit
www.greatlakesmud.org
.