Posted December 14th, 2016 in
News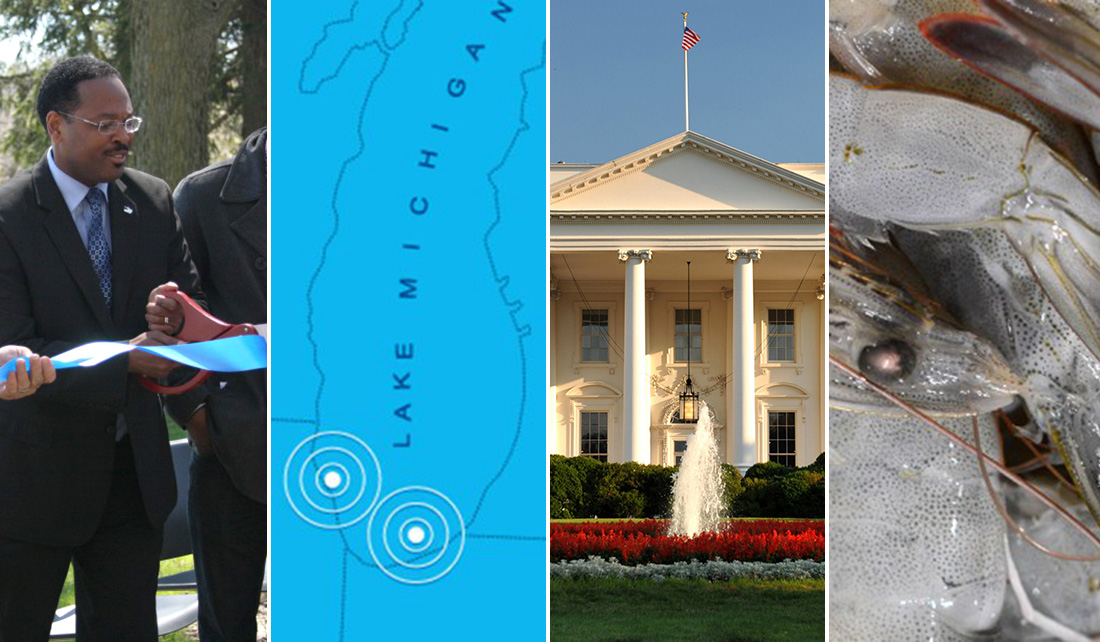 This is a tough year to single out just a handful of stories that made an impact. Researchers, specialists, partners, stakeholders all played an important part in making 2016 the best collaborative, communicative, cooperative, and adventurous year to date! So here goes…
---
Peoria stormwater issue reaches a tipping point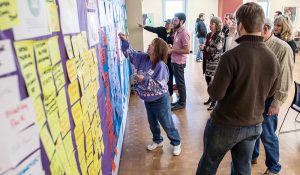 Armed with the powerful webtool Tipping Points and Indicators, Kara Salazar and Eliana Brown worked with Peoria, Illinois to tackle a lofty—and achievable—goal: to resolve their combined sewer overflow issue with 100 percent green infrastructure. The story appeared in an issue devoted to water in iBi, a Peoria business magazine.
Crude oil brings the Great Lakes risks and benefits

Crude oil moving in and around the Great Lakes isn't about to slow down anytime soon. Margaret Schneemann is working with other Great Lakes Sea Grant programs, industry, and academia to study this issue in an effort to support optimal movement of crude oil throughout the Great Lakes with regards to public safety, the economy, and environmental protection of coastal resources.
Milwaukee celebrates the rebirth of Lincoln Park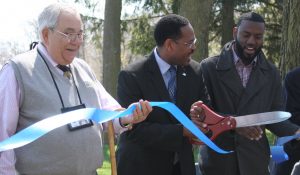 In the spring of 2016, Milwaukee residents living near the once-degraded Lincoln Park had cause to rejoice as part of a celebration of the park and river cleanup. This event, organized by Caitie Nigrelli who helped inform the community over the course of the cleanup, was attended by stakeholders, politicians, and members of the Friends of Lincoln Park.

Sea Grant takes AIM at AIS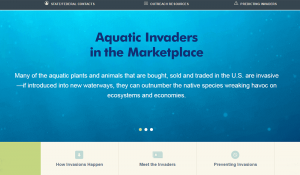 After several years in the making, the IISG aquatic invasive species team and researchers from the University of Notre Dame launched a new website, TakeAim.org, a resource to help reduce the number of aquatic invaders in the marketplace.
Purdue researchers get to the bottom of another quagga mussel impact
Purdue University PhD candidate David Cannon working under Cary Troy along with researchers funded by Wisconsin Sea Grant studied the filtration effects of quagga mussels in Lake Michigan. This study led to a more than $1 million National Science Foundation grant to continue their research.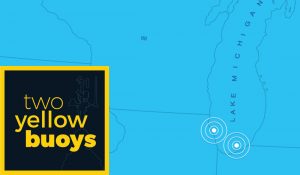 Two Yellow Buoys sits for an interview with the Big Ten Network
This was the first year both of our buoys, located near Michigan City and Wilmette, were in Lake Michigan for the entire season and boy, did they have a lot to say. Now even in the off-season their Twitter feed, @TwoYellowBuoys is still pumping out data.
Flood Vulnerability Assessment tool is online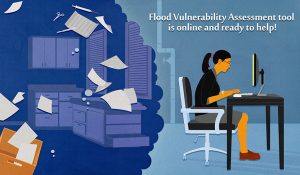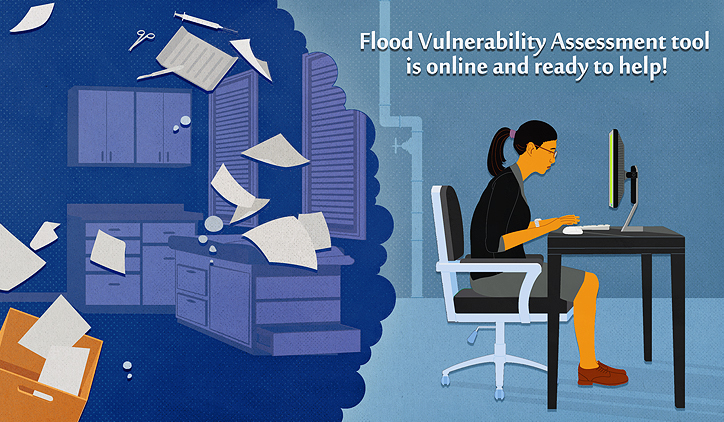 and ready to help
After three years in the making, the Flood Vulnerability Assessment for Critical Facilities went live online to assist critical facilities—like hospitals, fire and police departments, and utility providers—evaluate their preparedness for when the next big rain storm hits. Molly Woloszyn led the project.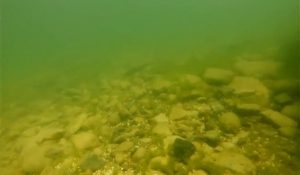 Restoring Great Lakes reefs brings back spawning grounds
This first-person account was contributed by Nick Kalejs, a Purdue University student working alongside Tomas Höök and Mitch Zischke. His compelling research of the spawning habits of walleye and whitefish in the threatened reefs in Saginaw Bay in Lake Huron drew lots of online attention.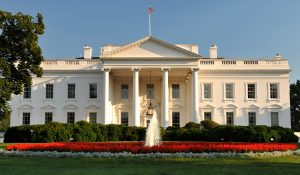 Resilient Watersheds Initiative recognized at White House Water Summit
In March, IISG got some D.C. love from The White House Water Summit. The summit highlighted the Prairie Research Institute's Resilient Watersheds Initiative at the University of Illinois in its announcement of new steps being taken across the country to address key water issues. IISG was one of the organizations involved in the initiative.
UpClose series closes out with Loyola researcher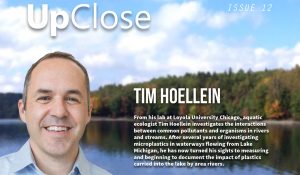 In this 12th and final issue of UpClose, the award-winning Q&A series, once again, gives readers an insider's view of emerging contaminants research. Readers learned over the course of the series about the complex, and sometimes tricky, process of conducting field studies on new contaminants, and the potential implications of research on industries and regulations.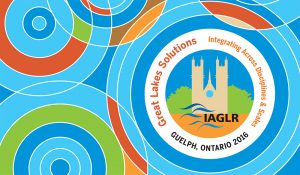 IISG "Hooks" IAGLR Leadership
A lot happened at this year's International Association for Great Lakes Research conference in Guelph, Ontario! Jay Beugly, Carolyn Foley, Angela Archer, Paris Collingsworth, and Tomas Höök all chaired or presented. To top it off, Tomas was elected president of the organization. Plans for next year are already underway: Sarah Zack, Kristin TePas, Paris, and Carolyn will be chairing sessions in Detroit, Michigan, May 15-19, 2017.
#SummerSurvey2016 on the Lake Guardian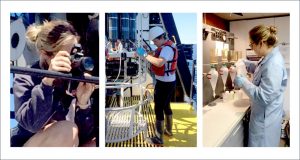 "Something that is new, however, is how much of the work is accessible to us landlocked lovers of the Great Lakes," Allison Neubauer wrote this summer. She was referring to all the access social media has given us at home to the research happening on the lake. Tweets, videos, photos provided by Allison and the researchers on the ship during the survey as well as the Shipboard Science program have enriched the experience for all of us.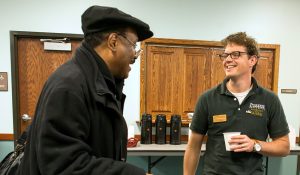 Lake Michigan fisheries workshop brings anglers and researchers together
Mitch Zischke and Jay Beugly put on the first of hopefully many recreational fishing workshops that brought together more than 40 researchers, managers, stakeholders, and anglers to Hammond Marina in Indiana to learn about food web research, updates on fisheries, and ongoing monitoring in southern Lake Michigan.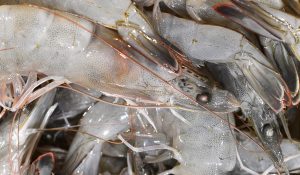 Bigger shrimp can mean bigger profits
The demand for farm-raised shrimp is high, but as Kwamena Quagrainie points out in his recent study, there's more money to be made by letting the shellfish continue to grow. "The value you can set by growing them to a larger size far out ways the cost."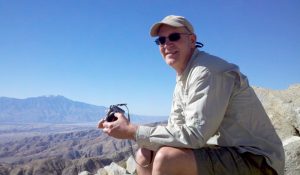 The Knauss Fellowship can change your life!
To pitch in for Sea Grant's 50th celebration we profiled our very first Knauss Fellow from 1990, John Epifanio, who worked for the late U.S. Senator John Glenn focusing on Great Lakes issues. Epifanio is a molecular ecologist and fish conservation geneticist at the Illinois Natural History Survey. We can't wait to see what's in store for this year's fellows, Laura Satkowski and Denise Devotta!
Illinois-Indiana Sea Grant is a part of University of Illinois Extension and Purdue Extension.