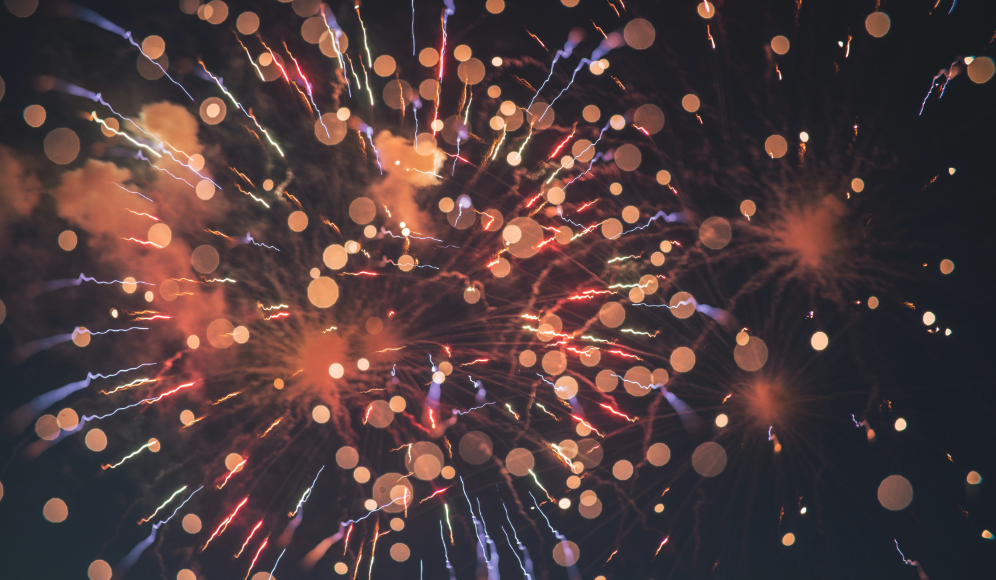 While 2020 has been challenging in many ways, our Illinois-Indiana Sea Grant (IISG) team has had silver linings in the form of awards that honor the hard work they put into their jobs each and every year. See below for several awards that celebrate the dedication our staff members put into communicating the latest science to communities in Illinois, Indiana and beyond.
"I think I speak for everyone on the management team at Illinois-Indiana Sea Grant when I say that we're appreciative of the amazing work that our specialists do, especially through tough times like this past year," said IISG Outreach Program Leader Pat Charlebois. "These awards recognize their commitment to community engagement and high-quality publications."
Staff Excellence Award for PK-12 Science Outreach
Megan Gunn, who joined Illinois-Indiana Sea Grant this year as an aquatic education associate and also serves as the Purdue Forestry and Natural Resources recruitment and outreach specialist, was selected as the 2020 recipient of the Purdue University College of Agriculture PK-12 Council's Outreach and Engagement Staff Excellence Award. Gunn works with schools to provide expertise in natural resources and aquatic education, and attends a variety of events to inform students about career opportunities related to natural resources. She also shares about avenues available at Purdue to assist students in gaining the experience and education necessary to have a career in the field through school visits, field days with hands-on experiences and campus tours.
Great Lakes Water Safety Volunteer of the Year
The Great Lakes Water Safety Consortium (GLWSC) is a growing community of people from organizations passionate about water safety and drowning prevention. Out of more than 800 GLWSC members and dozens of Action Committee volunteers, Leslie Dorworth was named as Volunteer of the Year for 2019-2020 by Executive Director Jamie Racklyeft. Her excellent leadership of the Education & Training Action Committee, her dedicated service to other working groups and her support of their many events and initiatives throughout the year has earned her this honor and is greatly appreciated.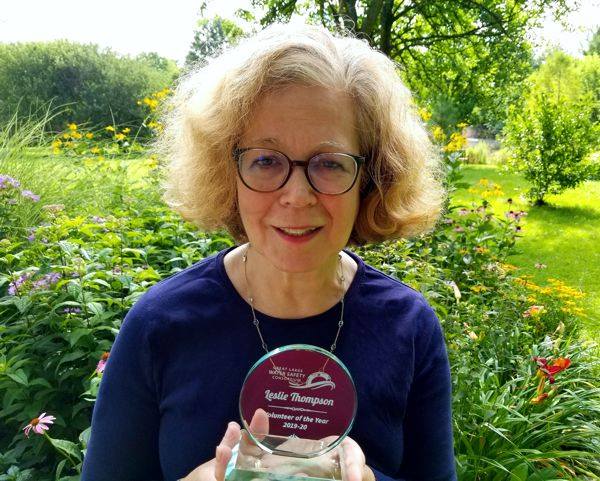 AIS truck wrap wins Hermes Gold Award
Hermes Creative Awards honored our aquatic invasive species team with a 2020 Gold Award for print media to recognize their innovative work on a truck wrap for the Illinois Department of Natural Resources. Driven by the Illinois DNR Lake Michigan Program project specialist, the truck features hydrilla, zebra mussels and Asian carp as recognizable invasive species that are introduced to local waters through plants and animals being transported via boat from one waterway to another, releasing fishing bait, and more. The truck is a reminder to all who see it to Be A Hero – Transport Zero. Congratulations to Greg Hitzroth, Amanda Huegelmann, Lian Lucansky, Pat Charlebois, Joel Davenport, Irene Miles, and Hope Charters for their collaboration on this winning project.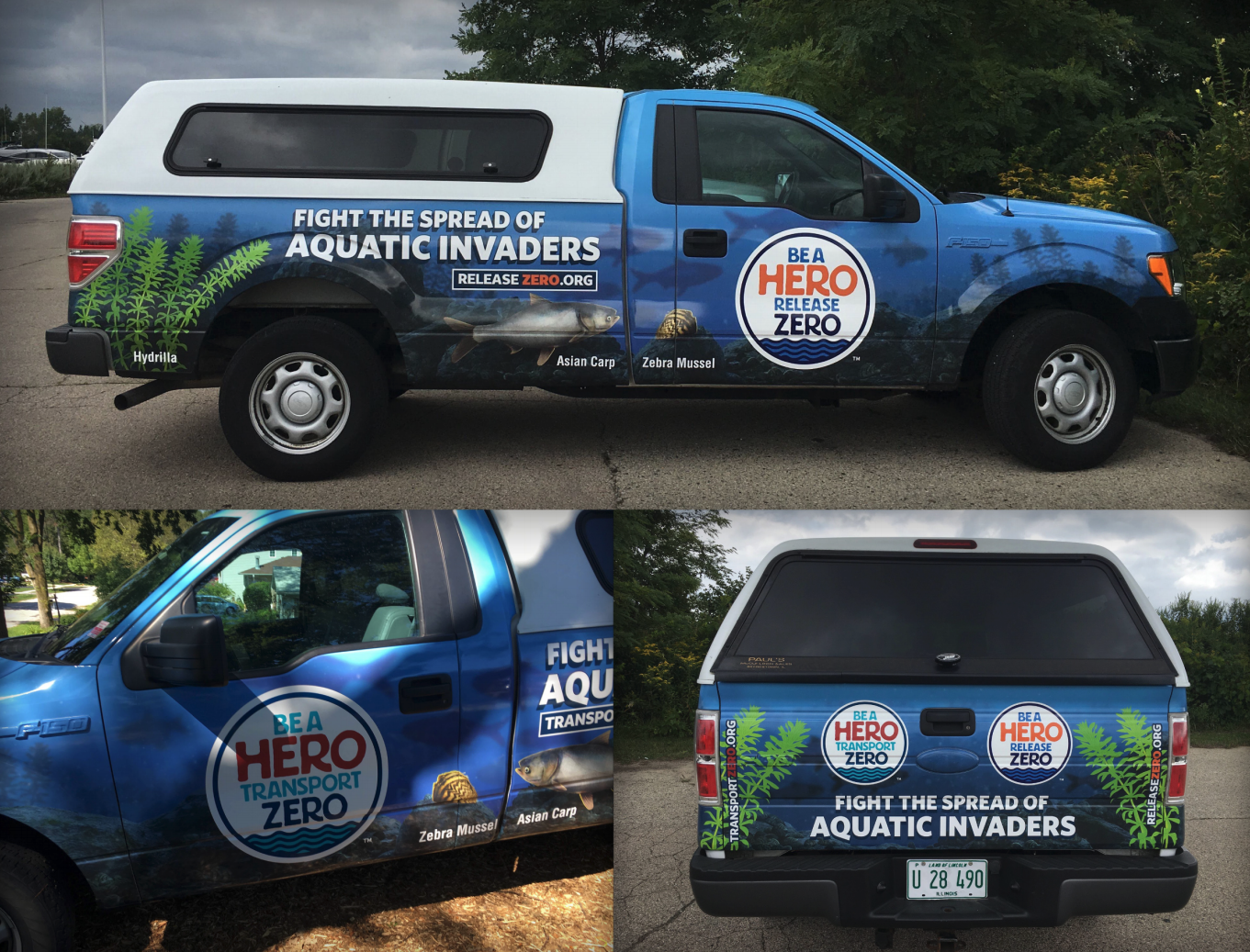 Unwanted Meds brochure wins APEX Award of Excellence
Illinois-Indiana Sea Grant's unwanted medicines program connects communities with resources to safely dispose of unwanted medicines to prevent them from disrupting the health of local waters. APEX Awards for Publication Excellence selected the Proper Disposal of Unwanted Medicine: How to Protect Your Home and Environment brochure as an Award of Excellence winner for print media. The brochure contains tips for reducing the amount of unwanted meds in your home, why it's dangerous to throw away or flush unwanted meds and options for how to properly dispose of any unwanted meds. Congratulations to Sarah Zack, Joel Davenport, and Hope Charters for their collaboration on this winning project.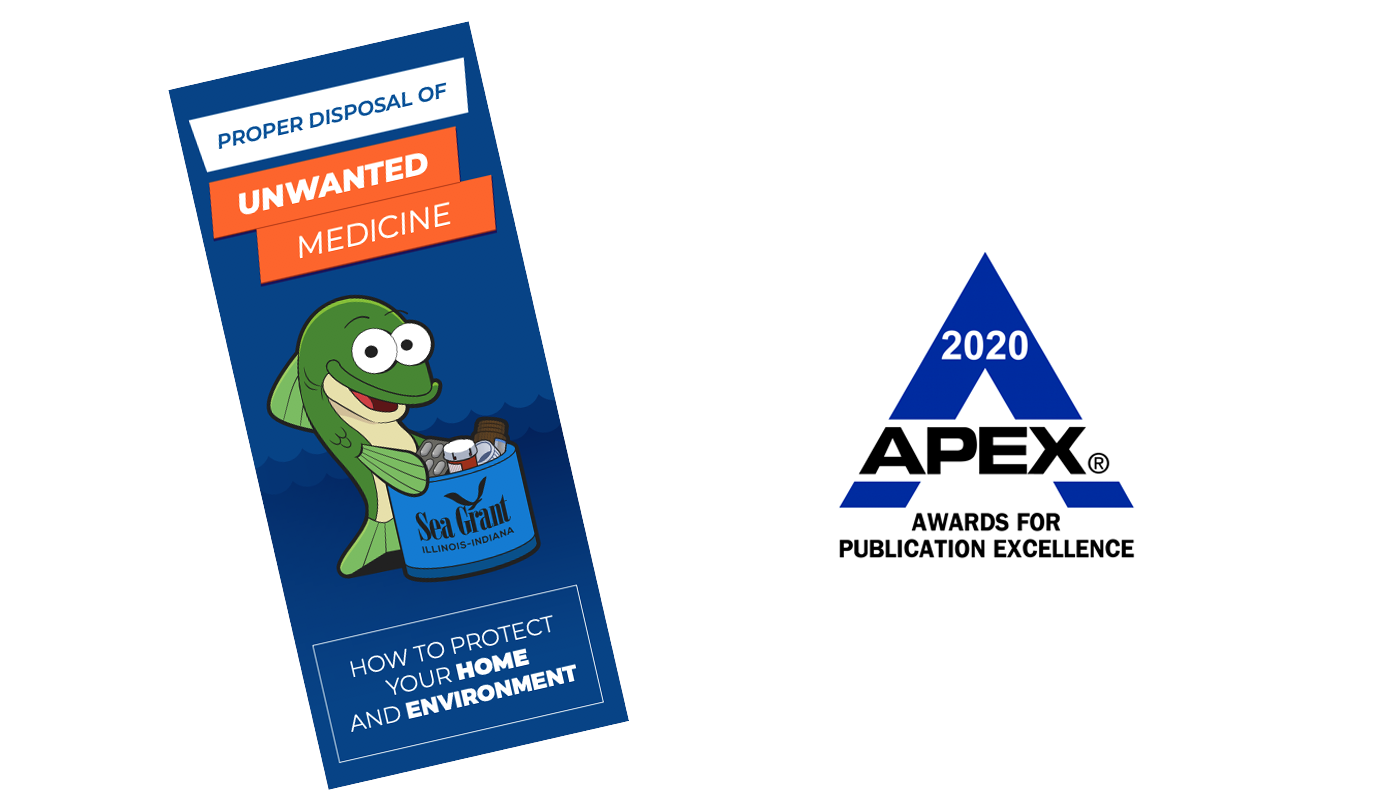 Lake Michigan Health website wins Communicator Award of Distinction
Illinois-Indiana Sea Grant's Lake Michigan Health: A Deeper Dive website won a 2020 Award of Distinction from the Communicator Awards, with judges from the Academy of Interactive & Visual Arts, for the category of general science websites. Lake Michigan gets regular health checkups, but like many people, it sometimes needs special monitoring or scanning to get to the bottom of symptoms or concerns. This website breaks down the latest results from some of these tests and evaluations to make them available to the general public in an interactive format. Congratulations to Allison Neubauer, Kristin TePas, Carolyn Foley, Irene Miles and Paris Collingsworth for their collaboration on this winning project.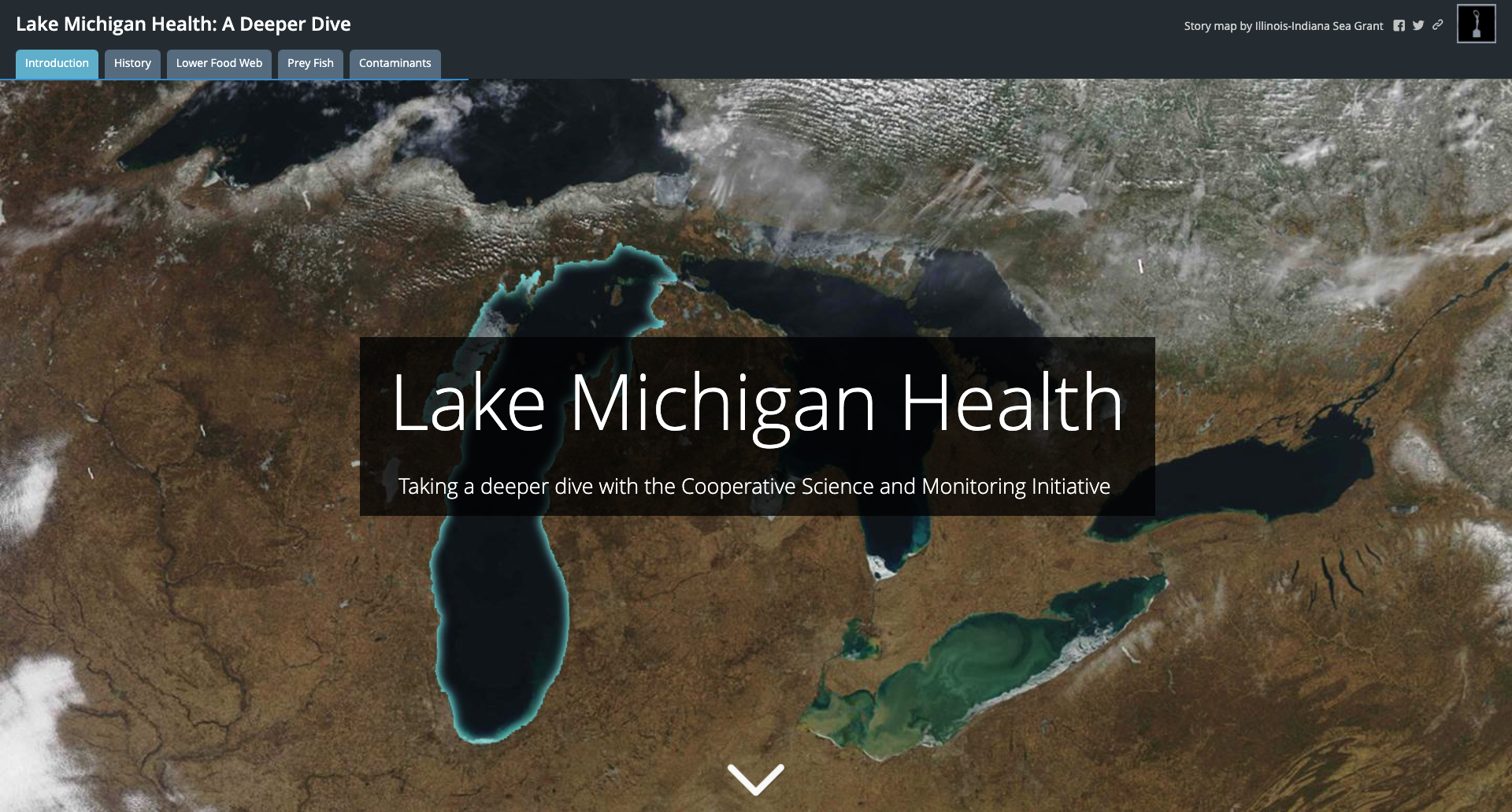 Food web graphic wins Hermes Gold Award
The Lake Michigan Health website features interactive graphics, easy-to-understand diagrams and photos of science in action. One of these graphics, titled "Lake Michigan Food Web: Changes throughout History," won a Hermes 2020 Gold Award for interactive media. The graphic helps explain changes in the Lake Michigan food web over time by allowing users to visualize transformations in the lake from pre-European settlement through the mid-20th century and what it looks like after the invasion of zebra and quagga mussels. The interactive tool can be used with anglers to explain how changes in the lower food web affect fish populations. Congratulations to Allison Neubauer, Kristin TePas, Carolyn Foley, Irene Miles, Paris Collingsworth and Joel Davenport for their collaboration on this winning project.
Lake Michigan Food Web: Changes throughout History
---
Illinois-Indiana Sea Grant is a part of University of Illinois Extension and Purdue Extension.
Writer: Hope Charters