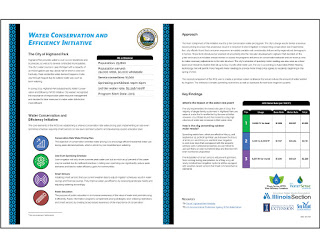 Municipalities throughout Illinois have been making determined efforts to conserve water though policy changes, education, outreach, and water-loss reduction strategies. The Illinois section of the American Water Works Association (ISAWWA) Water Efficiency Committee and IISG assembled seven case studies from the ISAWWA Water Saver award applications to highlight water efficiency achievements.
Highland Park is the second story in our series.
Highland Park is located on Lake Michigan about 25 miles north of Chicago. The city of about 29,000 provides water to over 10,000 residences and businesses, as well as to several municipalities. It draws 30 million gallons per day from the lake, about half of which is sold contractually.
City leaders recognized the importance of responsible water resource management and took measures to make water distribution more efficient. In spring 2013, Highland Park established its Water Conservation and Efficiency (WCE) Initiative.
"Highland Park is a very progressive community, very conscious of all things green," Donald Jensen, superintendent of Highland Park Water Plant said. "Sustainability is a big agenda item here for all of our elected officials, and it filters down through all the professional staff as well. That's just the way business is done in Highland Park."
The main component of this initiative was the 3-tier conservation water pricing plan, including annual reviews to assess the program's influence on conservation behavior and on revenue. The city would then make necessary adjustments to the rate structure.
The city implemented the tiered rate plan in 2014. The majority of single-family customers in Highland Park used water at a rate that was unaffected by the new initiative. However, city officials found that residents using high volumes of water saw increases in their water rates.
Highland Park's schedule of quarterly meter reading was also seen as a drawback since residents receive their bill up to four months after water use. Beginning in the spring of 2016, the city is converting to Automated Meter Reading technology that will permit more frequent meter readings to provide timelier price signals to residents.
"The more frequently the meters are read, and the bills are sent out the more likely it is the tier-grade system is to have an impact," Jensen said. "And of course our goal isn't to generate income, it's to conserve water."
The second component of the WCE was to create a sprinkler system ordinance that would reduce the amount of water wasted by irrigation during the heaviest months. The ordinance contains sprinkling restrictions as well as standards for new lawn irrigation systems.
Sprinkling restrictions, which are effective from May 15 until September 15, prohibit sprinkler use between the hours of 12 p.m. and 6 p.m. and limit lawn irrigation to odd-even days that correspond with the property address (odd-numbered properties are permitted to use sprinklers on odd-numbered days and likewise with even-numbered properties).
The installation of smart sensors will prevent sprinklers from running during precipitation. As of May 2013, all newly installed lawn irrigation systems will be equipped with weather-based sensors that meet EPA WaterSense standards.
"I think we're headed in the right direction, (but) I think there's a lot of work yet to do," Jensen said.