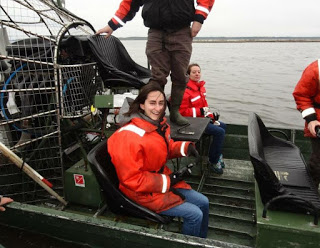 Alyssa Hausman, a master's student in environmental science at Indiana University, shares her experiences as a Knauss Fellow at the U.S. Fish and Wildlife Service.
I have had great experiences working with the Knauss fellows in the past, so when I started graduate school in 2012, I knew that this fellowship was an opportunity that I couldn't afford to not pursue.
After an extensive application process, I found out last June that I was a finalist for the 2015 fellowship class as an executive fellow. As one of 40 executive fellows, I had a wide-range of offices and positions that I could potentially be placed in. Executive fellows placements span a range of departments: Commerce, Interior, Navy, Energy, and independent agencies such as the EPA and National Science Foundation.
After a daunting placement week, complete with 15 back-to-back interviews, I was placed with U.S. Fish and Wildlife Service — an agency dedicated to conserving fish, wildlife, and plants and their habitats. My fellowship with the Service's Division of Congressional and Legislative Affairs provides me the opportunity to engage the legislative branch on important wildlife issues, and even work alongside Knauss fellows in the legislative branch. My work so far has focused on the Endangered Species Act, coastal resources, and wildlife, and sport fish restoration.
Throughout the course of the fellowship, I have been able to visit various Service assets, including Blackwater National Wildlife Refuge and the National Wildlife Repository. I recently spent a month in the Service's regional office outside of Denver, Colo., which included a short trip to view conservation efforts in the Dakotas. These opportunities have taught me so much about the Service's efforts on important issues that I do not work on directly, such as invasive species control, wildlife trafficking, and habitat conversion.
Now that I am half-way through my fellowship year and the next cohort of fellows has been selected, it is time for me to consider my next steps seriously. I have greatly enjoyed my time so far working with the Service and hope that I will have the opportunity to continue working with the agency, whether it be within the agency or outside as a partner.
Regardless of where I end up in February, I am looking forward to being a part of the Knauss alumni network and maintaining the personal and professional relationships that I've developed with my peers in the fellowship.