Skip to content
National Ocean Sciences Bowl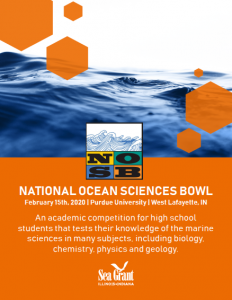 The National Ocean Sciences Bowl (NOSB) is a national academic competition in which teams of high school students compete for the regional and national title. The matches feature quiz-bowl style rounds and challenge questions that test ocean and Great Lakes knowledge.
The questions focus on math and science related to ocean and Great Lakes biology, chemistry, geology, physics, technology, history, and economics. The competition format includes a 6-minute buzzer round, two team challenge questions, and another 6-minute buzzer round. Team challenge questions require data analysis and synthesis of science and math concepts.
Regional competitions are held throughout the nation in February and March, and the final national competition is held in April.
For more information or to register, contact Angela Archer at 765-496-3722 or amcbride@purdue.edu. To learn more about NOSB, visit www.nosb.org
Where and when?
The NOSB will be held on Saturday, February 15, 2020, at Purdue University in West Lafayette, Indiana. The national competition will be held in April 2020; the location will be announced.
The 2019 national competition will be held on April 11 in Washington, D.C.
Who competes?
Teams consisting of four high school students and one alternate teammate compete in question-and-answer matches during the competition. Student teams can come from Illinois or Indiana high schools.
We are looking for teams for our first NOSB competition! Teachers interested in learning more can visit the IISG booth at the HASTI Conference in February 2019.
For more information about teams and who can compete, contact Angela Archer at amcbride@purdue.edu or 765-496-3722.
What are the prizes?
National prizes have included cruises on aquatic research vessels, visits to research laboratories, computer hardware and software for the winning team's school, scientific equipment and laboratory supplies, scholarships, endowments, t-shirts, trophies, and medals.
How can I volunteer?
Volunteers help the event run smoothly and get to spend time with the next generation of scientists and engineers. No specialized freshwater or marine knowledge is required. Volunteers receive free breakfast, lunch, and an event t-shirt.
To learn more or sign up, contact Angela Archer at amcbride@purdue.edu or 765-496-3722.
Note: Because the event is held on campus and involves high school students, the university requires volunteers to pass a background check.
Contacts
Angela Archer, Program Administration Specialist
amcbride@purdue.edu, 765-496-3722
Jay Beugly, Aquatic Ecology Specialist
jbeugly@purdue.edu, 765-494-2930
Contact Info
Education Coordinator
Terri Hallesy
217-244-8809