Skip to content
National Ocean Sciences Bowl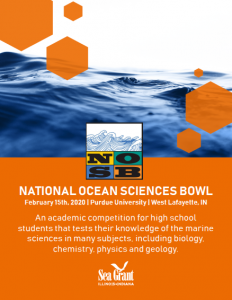 The National Ocean Sciences Bowl (NOSB) is a national academic competition in which teams of high school students compete for the regional and national title. The matches feature quiz-bowl style rounds and challenge questions that test ocean and Great Lakes knowledge.
The questions focus on math and science related to ocean and Great Lakes biology, chemistry, geology, physics, technology, history, and economics. The competition format includes a 6-minute buzzer round, two team challenge questions, and another 6-minute buzzer round. Team challenge questions require data analysis and synthesis of science and math concepts.
Regional competitions are held throughout the nation in February and March, and the final national competition is held in April.
For more information or to register, contact Angela Archer at 765-496-3722 or amcbride@purdue.edu. To learn more about NOSB, visit www.nosb.org.
Contact Info
Educator and Student Engagement Coordinator
Terri Hallesy
217-244-8809
Environmental Literacy and Workforce Development Coordinator and Great Lakes Outreach Specialist
Kristin TePas
312-886-6224