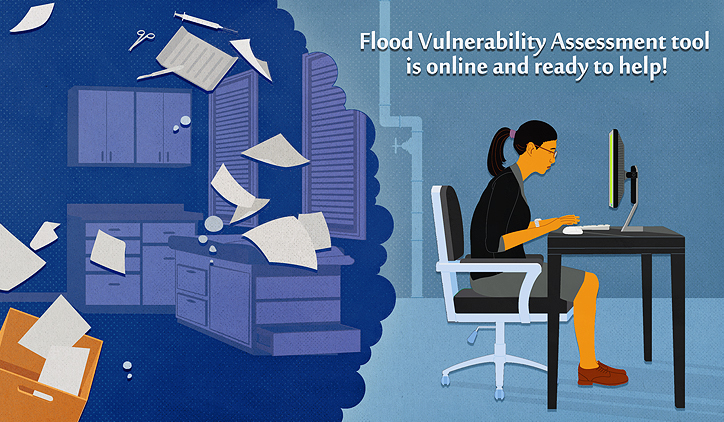 After three years in the making, the Flood Vulnerability Assessment for Critical Facilities is now available online to assist critical facilities—like hospitals, fire and police departments, and utility providers—evaluate their preparedness for when the next big rain storm hits.
At the heart of the tool is a series of questions that will help communities in the Midwest determine a facility's risk based on factors like its proximity to a flood plain, past flooding issues, stormwater drainage structures, and the location of backup generators, servers, and other critical systems.
Facilities are also able to use the tool to evaluate current emergency communication plans for heavy rainfall and determine whether improvements are necessary. After completing the assessment, users receive a report with specific recommendations for steps they can take to reduce the facility's vulnerability to riverine and/or urban flooding and useful resources and recommendations to make those steps forward a bit easier.
While recalling a 9-inch rainfall that flooded the plant pump house in 2008, the facility manager of a leading wastewater treatment facility in Cook County said, "That assessment report probably would have been helpful prior to the storm—it's very thorough." The manager completed the assessment as part of the original project.
The tool was built in response to questions raised after Hurricane Sandy shut down several facilities on the East Coast in 2012.
"When we started talking with Chicago partners not long after Hurricane Sandy, they were concerned about the state of critical facilities in and around Chicago—how prepared are they for potential flooding," said Molly Woloszyn, IISG climate specialist who led the assessment.
"This was really the main motivation behind the project: to provide a tool that critical facility managers could use to assess their own risk for flooding and recommendations for steps they could take to reduce their risk. The facilities receive this information in a comprehensive report after they complete the online assessment."
The assessment is part of a larger project that investigated precipitation trends in Cook County since 1989 and incorporated projections for future rainfall. The study found that large storms—specifically 5–8-inch rain events—happened more frequently at Chicago O'Hare Airport between 2002 and 2013 than in the previous 36 years.
The Reducing Flooding Vulnerability of Chicago Critical Facilities project is led by Molly Woloszyn, Beth Hall, MRCC director, with additional support from the Coordinated Hazard Assessment and Mapping Program at the Illinois State Water Survey. Funding is provided through the National Sea Grant Office as part of the Community Climate Adaptation Initiative, which is focused on helping communities prepare for climate change.
Illinois-Indiana Sea Grant is a part of University of Illinois Extension and Purdue Extension.