Skip to content
Career Opportunities
Illinois-Indiana Sea Grant supports over 30 extension specialists, communicators, educators and administrators conducting environmental and natural resources outreach on a number of critical issues at local, regional and national scales. Extension specialists deliver science-based programs that empower communities and people to make informed natural resource decisions.
Assistant Dean (Program Leader) for Natural Resources, Environment and Energy (NREE) and Associate Director, Illinois-Indiana Sea Grant
The Assistant Dean (Program Leader) for Natural Resources, Environment and Energy (NREE) serves as a regular, full time, 12-month academic professional with primary responsibility for leading and developing statewide educational programming in energy and environment, air, land, and water, forestry, wildlife, outdoor economy, and systems that support these critical areas for the Illinois food, agriculture, and outdoor industry. The Assistant Dean for NREE serves as the Associate Director of the Illinois-Indiana Sea Grant (IISG) and oversees the University of Illinois Arboretum and the Energy Education Council (EEC).
To receive full consideration, all requested application materials must be submitted via the online system by the close date of March 17, 2020.
For detailed information, visit https://jobs.illinois.edu/
Aquatic Invasive Species (AIS) Outreach Coordinator/AIS Associate Scientist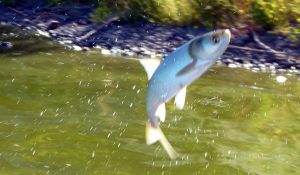 Illinois-Indiana Sea Grant and the Illinois Natural History Survey are hiring an aquatic invasive species (AIS) outreach coordinator/AIS associate scientist to develop, plan, direct, and conduct scientific outreach programming for a variety of stakeholders about AIS affecting Lake Michigan and the inland water of Illinois and Indiana.
In addition to engaging in outreach, some responsibilities of this position include:
Evaluating effectiveness of the AIS program's outreach activities through survey research

Applying for and administering grants including budgeting, reporting, and other principal investigator duties

Supervising staff to achieve success and foster innovation.
This appointment is a full-time 12-month position, eligible for full University of Illinois benefits. It is located at the Botanic Gardens in Glencoe, Illinois.
To learn more about duties, required qualifications and application timing, visit Jobs at Illinois.
Internships
IISG offers a Summer Internship Program for undergraduates currently enrolled in a U.S. institution of higher learning or recently graduated. Successful applicants will spend 12 weeks working closely with a Sea Grant specialist on issues affecting the Great Lakes. Internships include research, communications, and outreach components.
Now accepting applications through March 6, 2020!

For detailed information, visit Education Opportunities