Skip to content
Career Opportunities
Illinois-Indiana Sea Grant supports over 30 extension specialists, communicators, educators and administrators conducting environmental and natural resources outreach on a number of critical issues at local, regional and national scales. Extension specialists deliver science-based programs that empower communities and people to make informed natural resource decisions.
Regional Aquaculture Marketing Specialist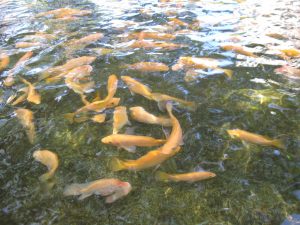 Illinois-Indiana Sea Grant has an opening for a regional aquaculture marketing extension specialist to develop and deliver consumer-oriented aquaculture programming throughout the USDA North Central Region, which includes Ohio, Michigan, Indiana, Illinois, Wisconsin, Missouri, Iowa, Wisconsin, Kansas, Nebraska, South Dakota and North Dakota.
This specialist will work in collaboration with Great Lakes Sea Grant programs and the USDA North Central Regional Aquaculture Center to inform the market for local aquaculture products throughout the Midwest.
This full-time, two-year position is located in the Purdue University Department of Forestry and Natural Resources in West Lafayette, Indiana. To see the complete job description or to apply, visit the Purdue University Jobs Board.
Job description and application: https://careers.purdue.edu/job/West-Lafayette-Regional-Aquaculture-Marketing-Extension-Specialist-IN-47906/540076900/
Internships
IISG offers a Summer Internship Program for undergraduates currently enrolled in a U.S. institution of higher learning or recently graduated. Successful applicants will spend 12 weeks working closely with a Sea Grant specialist on issues affecting the Great Lakes. Internships include research, communications, and outreach components.

2019 Summer Internship Program
Internships are available in the following areas:
Green Infrastructure
Sustainable Communities
Application packets are due on March 8, 2019. Interns will be paid $12/hour for 37.5 hours per week. Applicants can be enrolled or recently graduated from any U.S. institution of higher learning, and chosen interns will be paid as student employees of Purdue University or University of Illinois. Some travel and/or weekend work may be expected. Interns are responsible for the cost of housing plus transportation to and from their work place. Work-related travel will be funded by the Sea Grant host. Successful applications will be notified of their acceptance by the end of March. Internships are expected to start May 2019 and will end August 2019. View full internship position descriptions and application requirements.
For more detailed information, visit https://iiseagrant.org/wp-content/uploads/2019/02/2019_Summer_Internship_Program.pdf