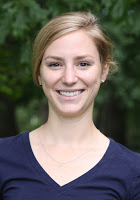 By Anne Packard (Anne is a summer intern working with Laura Kammin, IISG pollution prevention specialist)
Can pharmacists play a role in pollution control? This is the question I asked myself when I heard about an internship through Illinois-Indiana Sea Grant.
As a third year student at Purdue University College of Pharmacy, I became interested in this internship because of my love for the Great Lakes. I am a western Michigan native, so the freshwater lakes are dear to my heart. At a young age, I took advantage of all the benefits living close to Lake Michigan can provide.

I have fond memories of sailing, watching the sunset, and building sand castles on the beach.
During the school year, being a pharmacy student feels like a 24 hour a day job. The amount of time spent studying and thinking about pharmacy related topics is quite demanding. I have to love what I study. The pollution prevention internship is a great way for me integrate two key facets of my life—my pharmaceutical knowledge and my love of the environment and the Great Lakes.
My role with Illinois-Indiana Sea Grant is to help with education in the community with regards to medication pollution and disposal. Another major aspect that ties in my pharmacy experience will be to educate people about the consequences for misuse, accidental poisonings and abuse of unused medication. I also am working with a Purdue College of Pharmacy professor to organize data to better understand the needs in the Lafayette area related to medication take back programs.
Even in the few weeks since starting, my knowledge base on medication pollution has expanded substantially. By the end of this summer I hope to take the knowledge I have gained and apply it in my future career as a pharmacist. Through this experience I want to be knowledgeable about the resources available for proper medication disposal as well as tools to implement safe disposal practices wherever my career takes me.
As with all student interns, there is always a dream of making a difference in the job they are in. Although, I do not expect to make groundbreaking changes, I hope I can help my community take a step in the right direction to minimize pharmaceutical pollution in the environment.