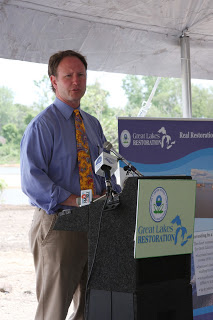 In northwest Indiana, life may just be a little more hopeful than it used to be. The Great Lakes Legacy Act (GLLA) project to remove contaminated sediment from portions of the Grand Calumet River and adjacent Roxana Marsh is done. Unlike before the cleanup, these waterways will now likely attract birds, aquatic life, and people.
"This river was lifeless," said Cameron Davis, senior advisor on the Great Lakes to EPA Administrator Lisa Jackson. "Today, because of this effort, you can see the Grand Cal working and fighting to come back to life, and with it, the community."
A celebration and press event earlier this week to mark this moment brought together the many players and partners involved in the process. And, thanks to work done by Caitie McCoy, Illinois-Indiana Sea Grant (IISG) social scientist, local school children capped off their semester-long learning experience about the restoration project by planting native seedlings along the marsh's shores.
"Legacy Act projects provide opportunities for residents to get involved in the river restoration process and learn about local water issues," said McCoy. "As the Grand Cal project moved forward we have been ensuring that this includes local students too."
McCoy and Nishaat Yunus, a fellow in the U.S. EPA Great Lakes National Program Office (GLNPO), worked closely with students in two northwest Indiana schools, engaging them in hands-on water monitoring activities and other learning opportunities.
At the Hammond Academy of Science and Technology they accompanied about 80 9th grade students from Amanda Miracle's science classes on a field trip to the river. Students took water samples to monitor water quality in restored sites–the results were shared with EPA and GLLA project partners. The students have gone back to the river to view progress on the restoration project. They have also learned data analysis, data reporting, and used data to make project-level decisions.
At the East Chicago Lighthouse Charter School, about 50 4th grade students from Andrea Bock's science classes grew native plants, provided by EPA. These plants were brought to Roxana Marsh to put in the ground as part of the celebration.
McCoy and Yunus engaged students in key concepts associated with habitats and restoration projects. The children designed their own Roxana Marsh habitat by constructing a colorful classroom mural.
McCoy is working with IISG's education team
—
RobinGoettel and Terri Hallesy
—
to package the classroom programming developed through these efforts, so it will be ready to apply at other GLLA sites, hopefully to work in conjunction with Sea Grant programs in other states.
http://hallesy
Altogether, more than 575,000 cubic yards of polluted sediment were removed from 2.5 miles of the Roxana Marsh and Grand Calumet River. The project's $56 million costs were shared by U.S. EPA and the state of Indiana. But there are many players in this project—EPA GLNPO, the U.S. Fish and Wildlife Service, Indiana Department of Environmental Management, and the Indiana Department of Natural Resources cooperated in the cleanup.
At the project celebration, Rep. Pete Vislosky commented on the restoration project. "What we used to call an industrial ditch—for 100 years—will be a grand river and a tremendous asset for all of us and our nation."