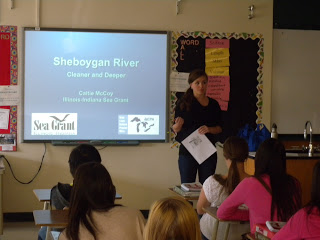 Illinois-Indiana Sea Grant's environmental social scientist Caitie McCoy informs and engages communities about important Great Lakes cleanup and restoration projects that affect them, and works with students to teach them more about Great Lakes ecology. One of her most recent opportunities to work with students was in Sheboygan, Wisconsin, where she provided information and lessons about a project close to home.

Caitie writes, "I visited Sheboygan, Wisconsin last Tuesday and spoke to high school biology students, answering questions about the
Great Lakes Legacy Act
dredging project happening just two miles from their school. This was my final school to visit in Sheboygan as part of a 12-school, countywide tour, which began this past October and reached about 600 high school science students. Now the students know the purpose of a cleanup happening right in their downtown, and they understand the science behind it.

IISG is a collaborating member of
Sheboygan's 'Testing the Waters' program
, through which students visit some of the Sheboygan River cleanup and habitat projects and learn techniques for testing water quality. My classroom visits helped set the stage for this program, and IISG also provided water sampling instruments for their use.
Some of the specific topics that we discussed with students included the chemical qualities of the pollution, the effects that pollution has on the food web, and the cleanup process under the Great Lakes Legacy Act. I also spoke with them about habitat restoration projects, which are removing invasive species, creating natural, softened shorelines, and improving filtration of runoff.

This project is part of a larger effort to provide students with stewardship opportunities and supplemental hands-on education about remediation and restoration efforts throughout the Great Lakes. It has been great to work with students in Sheboygan and
Northwest Indiana
, and I look forward to bringing this program to more Great Lakes students soon."
For more information about Great Lakes educational programs and opportunities, visit our
education page
and follow our posts here on the blog.